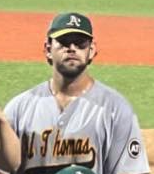 The winner of the 2021 Dick Radatz Fireman of the Yearr is Ben Johnson of the Al Thomas Athletics.
In 13 regular season appearances, Johnson was 2-0 with 6 saves while posting a 1.03 ERA. Johnson's 6 saves were the most by any pitcher since 2017 when Duncan Finagan, also of Al Thomas, saved 7 games.
In the post season, Johnson would go 1-1 with 1 save in four appearances. The save would come in Game 4 of the finals to clinch the championship for Al Thomas.
Congrats Ben on a great season.