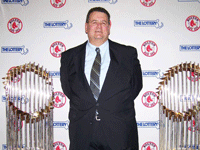 Dave McKay, of Dorchester, has served the Yawkey League as President since 1992. He manages the McKay Club Beacons of Dorchester. The team is named in memory of his parents. Dave was a two time Candidate for the Boston City Council in 1979 & 1987. He was a Catholic Educator at Saint Gregory & Saint Ambrose Parish Schools from 1978 to 1980. In 1981, Dave joined the faculty of his High School Alma Mater – Christopher Columbus Catholic Central HS. He served as a Social Study Instructor; Assistant Baseball Coach; Activities Coordinator and Development Director until the school was closed in 1991.
In 1991, McKay was appointed to the Staff of Boston Mayor Ray Flynn, and has served Mayors Flynn, Tom Menino, and Marty Walsh as a Constituent Service Specialist for over 20 years. Dave's baseball life spans 45+ years. He was a coach in the Mill Stream Baseball League in Dorchester during his High School years. At 19, he took over the Mill Stream program and helped it develop into one of Boston's largest amateur baseball programs for youth & young men. He worked in that area for 15 years.
The McKay Club has made the League Championship Series three times: 1992, 1998, and 2000. The McKay Club was the final opponent of the Colorado Silver Bullet Women's Baseball Team at Fenway Park in 1997, defeating them 5-2. Dave also was honored to manage five YBL All Star Games at Fenway Park.
During McKay's presidency, which has lasted more than two decades, the YBL has returned to wood bats, held All-Star Games at Fenway Park (1992-2004, 2012, 2014), and strengthened its ties to the City of Boston and the Yawkey Foundation – Boston Trust. McKay also created a talk show on Local Comcast Community Access in 2006. The Boston Baseball Head Show covered all aspects of amateur & professional baseball. Dave also did the play-by-play and color commentary on YBL Games of the Week, which also aired on Comcast.
Dave was inducted as a Builder into the Yawkey League Hall of Fame in November 2012.