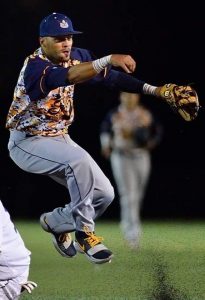 Name: Jose Paulino
Nickname: BuBu
Hometown: Lawrence, MA
College: Fisher
YBL Team: East Boston Knights
Favorite Sports Team: Boston Red Sox
Favorite Number: 3
Favorite Pro Athlete: LeBron James
Favorite Baseball Player: Alex Rodriguez
Q: You are now entering your 8th season, all with the East Boston Knights, what is the reason you continue to play in the Yawkey League despite other local league?
A: I continue to play in the Yawkey League because of the competitiveness, any given night any team can beat you in this league.
Q: What is the best part of being part of the East Boston Knight and Yawkey league as a whole?
A: The best part is the brotherhood you create with everyone around you. I have been fortunate enough to play on the Knights with many former college teammates which has made me still feel like I was in college playing baseball.
Q: Who is the toughest pitcher you have had to face in the YBL?
A: Chris McKenzie of the former Somerville Alibrandis. Chris was a former pro throwing in the low 90's with a 2 seamer that felt like a brick when you made contact.
Q: Best hitter you have seen in the League during your 8 years?
A: I would have to say James Katsiroubas of the Al Thomas Ball Club. "Katzy" could mash to all parts of the field and always came through in the clutch.
Q: What was your favorite YBL memory?
A: Winning the first playoff series in Knights history in 2014 against the Stoneham Sabers who had beaten us the prior 2 playoffs. The best part was our assistant coach Richard "Soohoo" running to the mound and doing the
Tim Tebow "prayer stance".
Q: What was your most memorable baseball accomplishment?
A: Being selected to the "All Conference" team in college.