Hitting Star – Curtis Tirone – Stoneham Sabers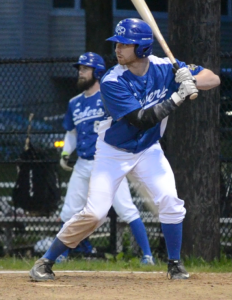 Stoneham Sabers outfielder Curtis Tirone returned to the Yawkey league after a stint in the Boston Park league in 2018. Tirone has been on a tear to start the season for the Sabers and has provided a much-needed potent bat at the top of the order. During this two week stretch Tirone batted 8 for 20 (.400avg), double, 2- triples and 7 runs batted in. Tirone is batting .393 on the season with 3 doubles, 3 triples, 10RBI, 10BB and a .575OBP. Tirone is a former Suffolk University player, making it two weeks in a row a player from Suffolk University has been a YBL Star of the week. Tirone is in the top 5 of offensive categories for Hits, Doubles, Triples, RBI, Runs, and Walks. If the Sabers make a playoff run Tirone will be at the center of the action.
Co-Pitching Star – Chris Sandini – Revere Rockies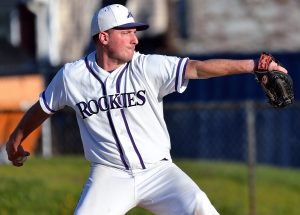 YBL Veteran, Chris Sandini is at it again. On June 1st Chris pitched a No hitter vs the East Boston Knights as he would pitch 7IP, 0H, 1BB and 6 strikeouts. During this two week stretch Chris has pitched 13 innings while allowing just three unearned runs, walking 4 and striking out 15 and earning two victories. This is Sandini's 11th season in the YBL with a short one-year stint in the Boston Park league in between. Chris is a true definition of a class act on and off the field all while maintaining a top of the rotation and top of the league starting Pitcher status for the Revere Rockies. To date this season Chris has compiled 17 and a third innings pitched wile not allowing an earned run and striking out 22 and only walking 6 batters. In Sandini's YBL career he has a career 41 wins out of 94 games pitched in. Chris seems to keep getting better with age and will look to continue his successful season and anchor the Rockies pitching staff as they look to make another run at a YBL title.
Co-Pitching Star – Raul Martinez – East Boston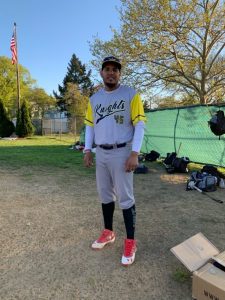 The YBL Rookie of the East Boston Knights pitched a no hitter on June 3rd vs the Savin Hill Dodgers. In the game Martinez went 7IP, 0H, 1BB and 12 strikeouts in a 3-0 win over the Dodgers. Martinez has been dominant for the Knights in the early part of the season, during this two week stretch alone he has pitched to a combined 11 innings pitched and only allowing 1 hit and 0 runs scored while earning two victories. On May 29th Martinez threw 4 shutout innings of 1 hit ball against the Black Sox while striking out 5. So far during the Knights first 9 games Martinez has pitched to a dominating 19IP and only allowing two earned runs on six hits and striking out 29 batters! Martinez is coming off a strong year in the Boston Park league where he was looking for a better and more consistent competition. Every time Martinez takes the mound East Boston has a chance to win the game.