YAWKEY BASEBALL LEAGUE MANUAL/RULEBOOK
Updated 2016 Season
Proposals from Marc DesRoches and Matthew Grimes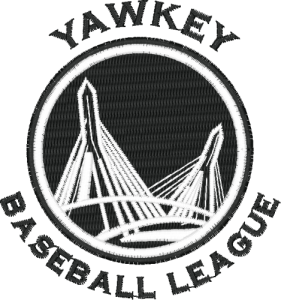 Sections:
Letter from the Commissioner:
It is an honor to serve as Commissioner of the Yawkey Baseball League for the first time in 2016. I want to continue on the 25 years of success that our league has realized since its humble beginnings. I want to continue on the path set forth by Dave McKay, Joe O'Hara and David Treska. We would not be here without their hard work and dedication for over two decades.
I am extremely fortunate that these three gentlemen are still here in important capacities; respectively, President Emeritus, Vice President and League Secretary. Together with the help of other Board Members Matthew Grimes, Travis Adams and John Griffith we seek to continue on past successes and push for an even brighter future.
We are thankful and excited that you have chosen to play in what we feel is the most organized and competitive league in the Greater Boston area. We are committed to your success and will work with you every step of the way. Our organization is built on the principle that each individual and franchise will strive to do what is best for the League and what is best for the game of baseball.
The purpose of this manual is to provide you with an overview of the Yawkey Baseball League and its rules, regulations, policies and procedures. We hope you will find the information helpful and informative.
All players, coaches and franchise holders are obligated to familiarize themselves with this document as best as they can. It will be voted on by the members each year as we always seek to amend and improve it.
I wish you the very best of luck this season and please do not hesitate to reach out if you need anything at all.
Sincerely,
Marc DesRoches
Commissioner
Yawkey Baseball League
LEAGUE INFORMATION
League Website: www.yawkeybaseball.com
Twitter: @yawkeybaseball
Phone: (617) 938-7150
Address: 31 Ely Rd; Dorchester, MA 02222
BOARD OF DIRECTORS
COMMISSIONER
Marc DesRoches (1st year)
Email: marc.desroches@comcast.net
Cell: (781) 526-8280
PRESIDENT EMERITUS
Dave McKay (26th year)
Email: bostonbaseballhead@gmail.com
Cell: (617) 938-7150
VICE PRESIDENT
Joe O'Hara (21st year)
Email: joeohara64@hotmail.com
Cell: (617) 850-2378
SECRETARY
David Treska (21st year)
Email: yblschedule2015@gmail.com
Cell: (978) 697-1981
MEMBER-AT-LARGE
Matt Grimes (3rd year)
Email: matthewgrimes@yahoo.com
Cell: (203) 257-6078
MEMBER-AT-LARGE
Travis Adams (2nd year)
Email: travis.adams0@gmail.com
Cell: (207) 837-7930
MEMBER-AT-LARGE
John Griffith (1st year)
Email: jlgrif26@comcast.net
Cell: (857) 231-6511
YAWKEY BASEBALL LEAGUE FRANCHISE CONTACT LIST
| | | | | |
| --- | --- | --- | --- | --- |
| Franchise | Member | Title | Email | Phone |
| Al Thomas Athletics | Joe O'Hara | General Manager | | 617-850-2378 |
| | John Kostas | Manager | | 617-828-3526 |
| | | | | |
| Brighton Black Sox | John Griffith | Franchise Holder / Manager | | 857-231-6511 |
| | | | | |
| Brighton Braves | Ted Tracy | Franchise Holder | | 781-740-4729 |
| | Pete Lankarge | General Manager | | 860-930-3355 |
| | Ed Lee | Field Manager | | 617-645-4760 |
| | | | | |
| Charlestown Townies | Devin Santilli | Franchise Holder | | 978-973-9171 |
| | | | | |
| East Boston Knights | Eric Bellavia | Manager | | 978-851-9990 |
| | Geoff Harris | Franchise Holder | | 781-915-4868 |
| | | | | |
| Malden Maddogs | Nick Vennochi | Manager | | 617-504-9328 |
| | | | | |
| McKay Club Beacons | Dave McKay | Manager | | 617-938-7150 |
| | Jack Owens | Coach | | 617-947-3410 |
| | Brian Mylett | Pitching Coach | | 617-694-0362 |
| | | | | |
| Revere Rockies | AJ Bucciarelli | Franchise Holder | anthony.bucciarelli@gmail.com | 617-699-8405 |
| | Nate Laliberte | Coach | nathan.laliberte@gmail.com | 207-229-8489 |
| | | | | |
| Savin Hill Dodgers | Brian Rizzo | Franchise Holder | | 617-407-2785 |
| | | | | |
| Somerville Alibrandis | David Treska | Franchise Holder | | 978-697-1981 |
| | Bernie Driscoll | Manager | | 617-750-0432 |
| | Cam Lynch | Coach | | 617-593-0943 |
| | | | | |
| South Boston Saints | John Tenney | Franchise Holder | | 617-838-3594 |
| | | | | |
| South End Astros | Owen Carlson | Franchise Holder | | |
| | Carl Rodriquez | Coach | | 617-593-3826 |
| | Chris Deane | Manager | | 617-780-2851 |
| | | | | |
| Stoneham Sabres | Angelo Colucci | Franchise Holder | | 617-959-5677 |
| | Joe Laurina | Coach | | |
| | | | | |
| Score Reporting | Stu Sklaver | | | 857-269-5822 |