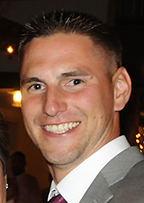 Pete Lankarge joins the YBL Board of Directors as Media Director going into the 2014 season. He is the manager of the YBL's oldest franchise, the Brighton Braves, for whom he has pitched since 2006. After going nearly three decades without a playoff appearance, the Braves have reached the playoffs in each of Pete's first two seasons as manager (2012-13).
In 2012, Pete began hosting episodes of "2 for 4," a YBL video news program created by Dave Bonnell. At the beginning of the 2013 season, Pete created the @YawkeyBaseball Twitter feed, which he maintains, along with the @BrightonBraves feed, which he has maintained since 2011. Recently, he was named the 2013 YBL Gentleman of the Year.
He is a two-time YBL All-Star, and also served as an assistant coach for the 2012 YBL All-Star Game at Fenway Park. Before moving to Boston in 2006, he had also pitched for amateur baseball teams in the Newport Sunset League and the Greater Hartford Twilight League.
Pete grew up in Glastonbury, CT. He helped pitch the Glastonbury Tomahawks to back-to-back CCC West Division titles in 2000 and 2001. During those same two years, he also pitched for the Team Connecticut Baseball program, and received their Golden Arm Award in the summer of 2000. He later went on to pitch for Muhlenberg College in Allentown, PA, where he studied English and Philosophy.
He works throughout New England as an independent sales rep for several different manufacturers, and also coaches at The Rivers School in Weston. He lives in Brighton with his wife, Amy.