PITCHER OF THE WEEK: Sam Cummings – Stoneham Sabers – #23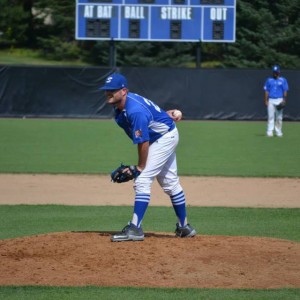 Sammy "The Bull" Cummings takes home the final weekly pitching award with an 8-inning performance over the Maddogs. Sam allowed only 2 hits and 2 walks with no earned runs and 10 strikeouts in his final regular season outing. This performance helped him just edge out a solid performance from teammate and Cambridge product Tommy Lenane who threw 6 innings in a win over the league-leading Athletics.
Fantasy Impact: Selected to be part of Team Dziuba Squad (mgr: none other than Teddy Dziuba himself), Cummings has the makings of being an ace on just about any team in the league. After averaging just shy of 44 innings pitched over the last 3 seasons, he only managed to log 28 innings in 2016. Over those innings, Sammy gave up only 17 hits and 8 walks against 29 strikeouts. And the 7 earned runs he gave up actually increased his career era to 1.16.
PLAYERS OF THE WEEK:  Ted Dziuba – Somerville Alibrandis – #22 / Kevin Higgins – McKay Club Beacons – #4
Our final installment of weekly Players will be a shared award, spreading the love to end the season.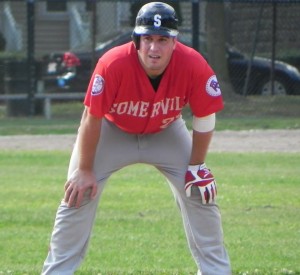 Amidst another week of keeping an eye on the moral compass of the Yawkey League, Teddy Dziuba had a hype week for the 6 time defending champs Somerville. With 4 games on the calendar, Teddy helped his Alibrandis close the season and lock up the #2 seed with 4 straight wins. In those games, he went 7-for-11 with two doubles, a triple, 10 runs and 5 rbi. He finishes the year with hits and runs in 12 of his last 15 games.
Fantasy Impact: A first-round selection also by the Dziuba Squad, Ted has put together yet another solid year in line with his YBL career averages: .357/.492/.500 – 24 rbi and 7 steals. He also set a personal best with 34 runs scored….which was just 2 off the league lead. After all, if you want to be in the Dziuba Squad, you gotta be smart. And don't pick on Mags….its not his fault he can't read.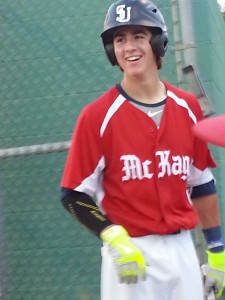 Sharing the honors is rookie Kevin Higgins of the Beacons. At the time of this posting some stats are not yet in, however as Kevin channeled his inner Zeus and Apollo for 3 HRs on the week, that was enough to do the trick and earn him the worldly acclaim of a POW award.
Fantasy Impact: Yet another rookie making waves, Higgins looks to be an additional building block for the McKay Club franchise after showing some skills with a near-.300 average and some power with all 3 taters coming at Ronan Park.