PITCHER OF THE WEEK: Adam Del Rio – Revere Rockies – #10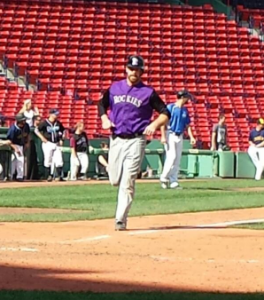 With some strong pitching performances to pick from last week, the POW committee had some options. Smitty had another brilliant performance shutting out the Beacons. Rookie Sam Bennett for EBK shutout the Astros carrying a late no-hit bid. And Chris Dion tossed a complete game win over the Alibrandis. However this week's award is going to tilt towards quantity in addition to quality. The Rockies' Adam Del Rio threw 12 innings over 2 starts, giving up only 1 run apiece in wins over the Knights and the upstart Townies. Over those 2 starts, the Donkey allowed 8 hits and struck out 9 batters…..but perhaps most impressively not walking a single batter.
Fantasy Impact: Inexplicably, Adam was not selected as a pitcher in the fantasy league. Must have been something to do with only throwing 5 innings last season. But he has matched innings pitched in 2015 with wins in 2016 and is now the proud owner of a 5-0 record. Over 34.1 innings, Del Rio has delivered a 1.63 era and .961 whip…..and a superb 27:3 k:bb ratio. Managers, take notice.
PLAYER OF THE WEEK:  Ted Downing – South Boston Saints – #14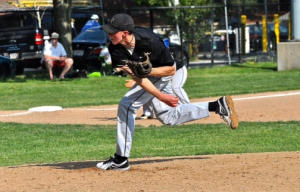 Apparently displeased with being relegated to a mere 'honorable mention' for his efforts last time around, Cambridge product Ted Downing kept the pressure on and forced our hand this week. The Saints' rookie has kept up a torrid pace as of late, his hat now securely in the ring for a potential 'Rookie of the Year' award. After a 5-for-9 performance 2 weeks ago, Ted improved on that last week going 7-for-12. Over these 5 games where Downing has been turning it on, the Saints have run the table. It appears at this point that the Saints and Rockies will be doing battle in the first round of the playoffs, and the Saints could win out and put pressure on the Rockies for home-field advantage. For good measure, TD also contributed a W with 2 innings of work against the Maddogs on Thursday.
Fantasy Impact: A big time rookie who projects to be a early/middle-round target on draft boards in 2017, Downing has improved to a .429/.587/1.059 slash line. Worth noting, he is now 2-0 in 5 relief appearances with a 1.11 era.