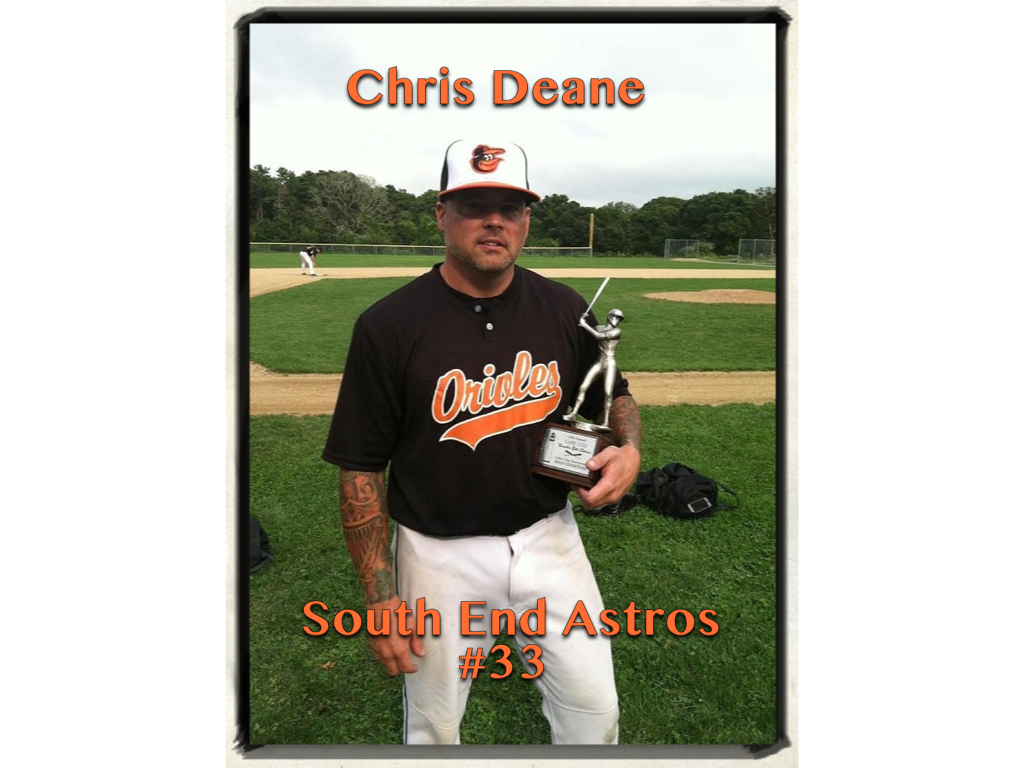 Chris Deane has been one of the Yawkey Baseball League's top hitters for more than two decades. Last year, in his first year with the South End Astros, he won the 2013 YBL Silver Slugger Award (DH), but more importantly, also won the YBL's Comeback Player of the Year after fighting his way through cancer treatments to bat .381 (37-97) with a .903 OPS and 17 RBI. As a capstone to this amazing season in which he also won a MABL championship with Ben's Dream White Sox and the Cape Cod Thunder Bat Classic with the Framingham Orioles, he then played all 100 innings of the 100 Innings of Baseball Spectacular, and the story of his battle with cancer was the subject of a New England Baseball Journal feature by Brett Rudy. Look for Deano to keep mashing in the YBL for several more years, because he shows no signs of slowing down.
Nickname: Deano
Bats/Throws: R/R
Position(s): DH now, but I fill in anywhere as needed.
Club(s) Played for in YBL?
21 years in the league this season. Started with Savin Hill, spent 14 years with McKay Club, and also played for Malden and Southie, but now I am an Astro.
Where did you grow up?
Southie
Where do you live now?
Plainville, but moving back to Quincy by the summer.
If you served in the military, where?
USMC
When is your birthday?
10-19-1975
What do you do for a living?
Local 7 Union ironworker
If you played pro ball, what was the most interesting city you called home?
Osceola County in Florida (Osceola Astros, Houston A ball affiliate)
What baseball awards / honors have you won in your life?
I have won a few, but most recently I won Comeback Player of the Year in the YBL…..really meant a lot to me!
Been part of any championship teams prior to / outside of the YBL?
Outside of the YBL I have won two with the Scituate Tides and one with Ben's Dream White Sox
What years have you been an All-Star in the YBL?
14 times, but cant remember the years.
Favorite MLB position player of all time?
Ted Williams
Favorite MLB pitcher of all time?
Nolan Ryan
Who is the most underrated player on the Astros?
Rommel Richardson Peguero
Who have you most looked up to in the YBL?
Marc DesRoches
Who is the toughest pitcher to face in the YBL?
Derek Bates
Who is the toughest hitter to face in the YBL?
Too many to list
What was the most exciting moment you've had in the YBL?
My first time at Fenway
What are your hobbies/passions outside of baseball?
Snowboarding
What was the greatest accomplishment in your life?
My daughter, Callan.
Do you have any pets?
I have a dog named Maddie.
How does your significant other handle your baseball habit?
My girlfriend has been more than amazing considering how much ball I play. We share a passion for snowboarding, so we always have the winters.
What drives you to keep playing ball every summer?
I have played every summer for the last 32 years, so I don't think I would know what to do if I didn't play.