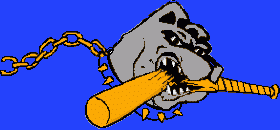 Malden Maddogs
2014 Record: 14-18
Ted Williams Division: 5th place
2014 Season Review:
The 2014 campaign was the first under new manager/franchise holder, Nick Vennochi. The team consistently pitched well enough to win, with highlight performances from Kenny Chaves, Blaine McLean, and Jon Klein. Chaves and Klein both finished with 1.88 ERAs, and Chaves led the team with six wins. He and McLean combined for 10 of the team's 14 victories. Rookie Paul Mahoney also showed promise, with two wins, and pitching in nine games over 38.1 innings.
But the team's offense was inconsistent in key moments, and the Maddogs missed the playoffs by one game. Veterans Matt Delaney, Geoff Lopes and Pete Maltzan led the team offensively. Delaney batted .355 with an OPS of .971. He ripped four doubles, four homers and had a triple, while driving in 21. Lopes caught 30 games and hit .319 with 17 RBIs. Maltzan led the team with 34 hits and 20 runs. Delaney, Lopes, Maltzan and Nick Vennochi combined for 128 of the teams 219 hits. In the end, the team didn't get enough contributions from the entire lineup to consistently win games.
2015 Season Preview:
With all the struggles offensively in 2014, the team still missed the playoffs by only one game. This year's version of the Maddogs is using last year's disappointment as motivation. We have been working hard in the offseason to get over the hump and end a two-year playoff draught. A few new additions coupled with returning the core of the team gives the Maddogs franchise hope for the present and future.
The team returns seven key starters offensively and four-fifths of a starting rotation that combined for 3.57 ERA last season. Blaine McLean and Kenny Chaves look to continue their consistent track records with Paul Mahoney and Brad McLean looking to build on solid progression. Jeff Croteau (Bentley, '13) joins the staff looking to pave his own Maddog legacy. He was a teammate of Blaine McLean and right fielder Bryant Johnson at Bentley during the 2012-2013 season.
Veterans Jay Sablone and Taleh Saleh are also returning for the 2015 season. Sablone will be in his 12th year, while Saleh will be in his 10th. Matt Delaney, Blaine McLean, and Brad McLean return for a six season, while Vennochi, Lopes, and Maltzan all return for a fourth.
Youngsters Joe Klingensmith (Stonehill), Mahoney (UMass Dartmouth), Matt Keefe (Rivier), Noah Tocci (Colby), Brooks Parker (Deerfield Academy), Tyler McLean, JP Whalen (Babson) and George Gouthier will all be competing for playing time with the veteran-laden team.
The team believes a good mix of young and experienced will lead to a 2015 season to remember.