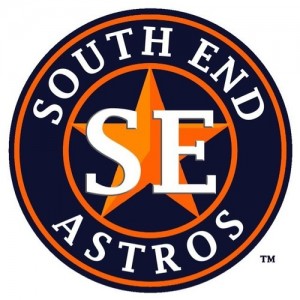 South End Astros
2014 Record: 13-18-1
Carl Yastrzemski Division: 5th place
2014 Season Review:
The South End Astros definitely didn't end their season the way they would have liked to, but there were definitely some bright spots in an otherwise disappointing season. The Astros were 2-0 against Yawkey powerhouse Stoneham Sabres, and also had impressive victories over East Boston, Al Thomas, and Revere. It was their inability to beat teams like Savin Hill, West Roxbury, and Malden that ultimately kept them out of the playoffs once again.
Offensively, South End was led by the most dangerous 3-4 hitters in the league, Luis Uribe and Julian Alvarez. Uribe finished the season with a team leading .403 average with 5 HR and 19 RBI. Alvarez finished with a .349 average with a team leading 6 HR and 24 RBI. Key injuries to relievers Joey Ortiz and Izzy Velez in the 2nd game of the season really hurt the Astros. They then lost 2nd baseman Paul Politsopoulos to a concussion and Chris Deane to a horrific knee injury. One of the main reasons the Astros were able to remain competitive was the arm of staff ace Starling Arias. The right hander threw 61 innings, ending the season with a 5-4 record, a 2.87 ERA, and a Yawkey League leading 75 strikeouts!
2015 Season Preview:
The 2015 South End Astros are looking forward to starting the season healthy and stronger than ever. Starting pitchers Starling Arias and Alex Weldon will anchor the Astros rotation. A healthy Chris Deane will add leadership and power to the lineup that already boasts names like Peguero, Sanjurjo, Uribe, and Alvarez. The return of closer Izzy Velez and hard throwing lefty Jonathan Matos will give the Astros depth and versatility for Coach Carl Rodriguez, and the return of Moises Maza behind the plate will be great for Carl's knees! The Astros also have a few surprises for the upcoming season that the league will just have to wait to see…….