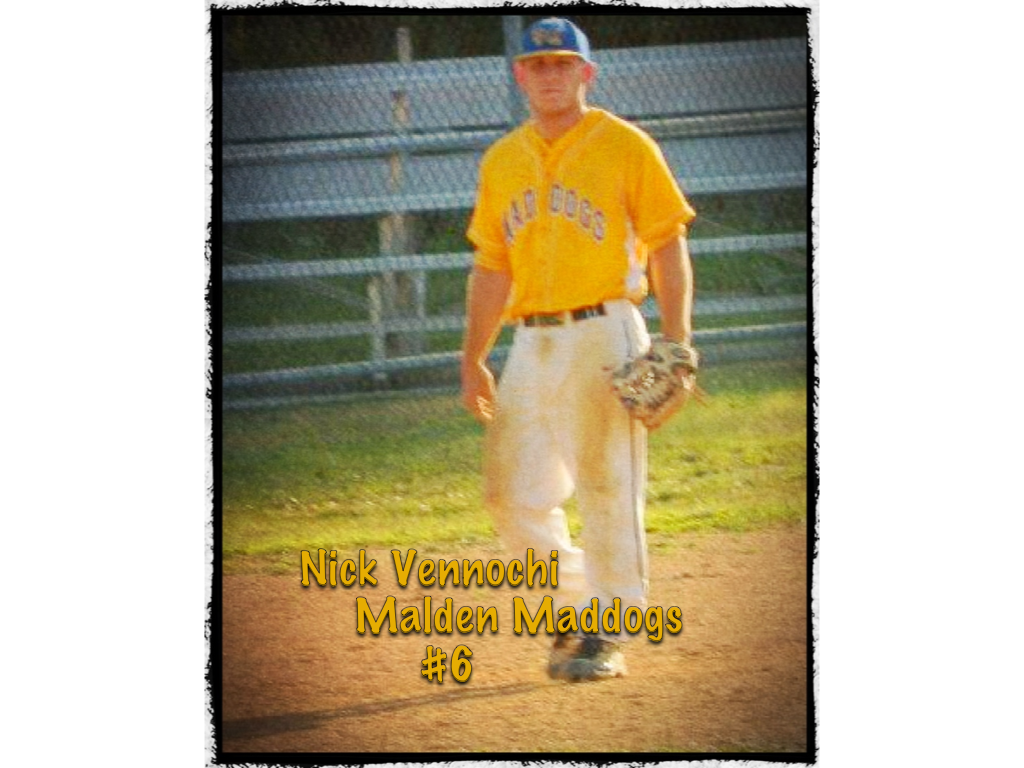 Nick Vennochi is the new player-manager of the Malden Maddogs. He has taken the reins from Dave Hanley, for whom he also played at Emerson College from 2008-11. In his senior year, he was the captain and team MVP. That was a tremendous achievement for a guy who was cut from his high school team all four years at St. John's Prep in Danvers, and it speaks volumes of his tenacious character.
"I was cut four straight years in high school," he said, "but kept playing the game because I loved it so much and didn't want someone else ending my career. I want to stop playing when I'm ready. I kept with it and made the Emerson team and started for three years."
You can expect the Maddogs to play a gritty, unrelenting style of baseball on Veno's watch.
Nickname: Veno
Positions: 1B, 3B, C, RF
Bats/Throws: R/R
Clubs played for in YBL:
South Boston Saints, 2009
Medford Maddogs, 2012-present (now Malden Maddogs)
Where did you grow up?
Melrose
Where do you live now?
Malden
Where did you go to college?
Emerson College
When is your birthday?
March 5, 1989
Do you coach/play anywhere outside the YBL? Where?
Played in MSBL for Blue Jays.
What do you do for a living?
Instructor at Extra Innings in Middleton, and Assistant to the Sports Communications Director at Wentworth Institute of Technology.
If you played pro ball, what was the most interesting city you called home?
No pro ball, but I did work for the Cotuit Kettleers in the Cape Cod Baseball League in 2010 when they won the championship. I did play-by-play and color commentary with Nick Coit of WLNE-TV. I also worked for the Lowell Spinners in 2011 in their merchandising department. In Cotuit, I was lucky enough to watch Deven Marrero of the Boston Red Sox organization play. And in 2011, the Spinners third baseman was Garin Checchini, also of the Red Sox.
What baseball awards / honors have you won in your life?
MVP Emerson Baseball 2011. All-GNAC Conference Third team, 2011.
Been part of any championship teams prior to / outside of the YBL?
Nope.
Favorite MLB position player of all time?
Chipper Jones
Favorite MLB pitcher of all time?
Pedro Martinez
What are the three best movies you've seen in the last year?
The Great Gatsby, Gangster Squad, American Hustle, Lone Survivor (Yeah, I gave you four.)
What concerts have you been to in the last year?
Drake
Read any good books lately?
The Science of Hitting by Ted Williams
Who is the most underrated player on the Maddogs?
Ryan Garber
Who else on the Maddogs would make for an interesting interview?
Geoff Lopes
Who is the toughest pitcher to face in the YBL?
Chris Dion
What was the most exciting moment you've had in the YBL?
Starting 3-13 last season and making the playoffs.
How would you improve the YBL?
Let scheduling software make the schedule. Play everyone twice. And less talk and more focus on the game we all love.
What are your hobbies/passions outside of baseball?
Gym, golf, friends.
What was the greatest accomplishment in your life?
Graduating college and getting a Masters degree.
Who is the most influential person(s) in your life?
My parents, Tom and Joan.
Tell me something about you that people wouldn't know.
I love my family more than anything. And I include my close friends as family. I am a pretty open person, so if you know me, there's not much you don't know.
Do you have any pets?
A dog, Zoe; a cat, Rusty; and I'm an uncle to another dog, Cooper.
How does your significant other handle your baseball habit?
My significant other is my baseball habit.
What drives you to keep playing ball every summer?
I love this game. And I get to play with four college teammates, my best friends, and I still love to compete. Nothing is better than winning with your friends.