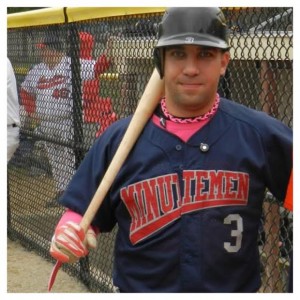 Ryan Bere is the Kevin Bacon of the Yawkey Baseball League.  Scanning his career stats on .400 Hitter, you quickly realize that every amateur baseball player in the greater Boston area is within 6 degrees of separation from Ryan and the many teams/ballplayers he has played both with and against.  As a jack of all trades who can play literally any position, Ryan has slugged 200 hits in his illustrious career playing for the likes of the Brighton Minutemen & Chelsea Cyclones of the YBL, as well as the Orioles, Blue Jays, and Cutters of the Boston MABL, and Royals of the MWABL.  As if playing for 5 teams in a calendar year wasn't enough baseball, Ryan is also one of only a handful of "Iron Men" who play every inning of the annual "100 Innings of Baseball Spectacular" which has raised over $600,000 for ALS research since its inception.
A baseball-aholic if there ever was one…get to know Ryan Bere of the Brighton Minutemen:
Nickname:  Ryno
Position(s): Super Utility, literally have played every position for every team I've been apart of.  Best position is 3B or SS
Bats/Throws: Left/right
Club(s) Played for in YBL: Winter Hill Cyclones-2010;  Brighton Minutemen: 2012-present
Where did you grow up: Belmont,MA
Where do you live now: Belmont,MA
Where did you go to college: Rhode Island College
Birthday: 4/29/86
Do you coach anywhere outside the YBL?  Coached in the MABL from 2009-2013; Asst. Coach for Dirt Dawgs 14U AAU Softball
Awards/Accolades: 2010 Manager of the Year in the MABL
What do you do for a living?  Store Manager for Olympia Sports
Been part of any championship teams prior to / outside of the YBL?  2010 MABL Blue Jays
Favorite MLB position player of all time: Ken Griffey Jr
Favorite MLB pitcher of all time: Nolan Ryan
What are the three best movies you've seen in the last year?  Lone Survivor, Captain American Winter Soldier, Captain Phillips
Who is the most underrated player on the Minutemen? Kevin Loveless – he's got some good stuff on the mound.  He always seems to keep the game close for us when he takes the hill.
Who else on the Minutemen would make for an interesting interview? Steve Walsh – he always has something to say.
Who have you most looked up to in the YBL? Rob Linn – he has been in the league for a while and goes about the game the right way.  One of the best clutch hitters I've played with.
Who is the toughest pitcher to face in the YBL? JT Ross of the Black Sox – I literally strike out every time against him.
Who is the toughest hitter to face in the YBL? Marc DesRoches – he can hit to all fields and always is a tough out.
What was the most exciting moment you've had in the YBL? A game last year against South End, I pitched in relief.  I went from getting a potential save to almost getting a loss, and finally our team pulling it out and I got the win.  Since that will probably never happen again I'll always remember it.
How would you improve the YBL? I think it is run pretty smoothly compared to some of the other leagues I play in.
What are your hobbies/passions outside of baseball? Big into fantasy football and spending time with family/friends.
What was the greatest accomplishment in your life? I coached my MABL squad to the 2010 championship and also getting to interview Cal Ripken Jr.
Who is the most influential person(s) in your life? My parents and my grandfather.  My dad was a big influence in the way I play, always taught me that hard work and dedication will always pay off.
Tell me something about you that people wouldn't know: I can throw a perfect spiral with either hand.
How does your significant other handle your baseball habit? She handles it great.  She is always trying to make as many games as possible.  Very understanding about my love of baseball, since she has a love of the game as well.
What drives you to keep playing ball every summer? I love the game and wouldn't know what to do with my summers if I didn't play.  I've been playing since I was little (haven't grown much since then either) and don't see that changing until I can't swing a bat or field a ball.
Predictions for the 2014 YBL Playoffs:  Somerville – have to go with the team that knows how to win the big games.