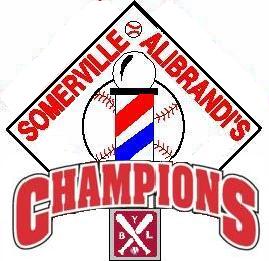 Somerville Alibrandis
2014 Record: 24-7-1
Yawkey Baseball League Champions
2014 Season Review:
Following an unprecedented 40-4 campaign in 2013, the Big Red Machine entered 2014 poised to win their 5th consecutive league title, and 15th in their Franchise's illustrious history. They did not disappoint.
Fueled by an All-World pitching staff led by veterans Chris Foundas, Jon Morse, and closer Brian Tanguy, Somerville's arms posted a league-best 1.58 ERA during the regular season, and upped the ante come playoff time to the tune of 0.71. Newcomer Chris McKenzie rode his blazing fastball to a team-high 4 playoff wins, eventually recording the final out in the team's championship- clinching victory against Al Thomas.
YBL Legend Marc "Doc" Desroches capped off his Hall of Fame career with a team best 30 RBI, while also becoming the charter member of the Yawkey Baseball League 500-hit club. He retires as unquestionably the league's most dominant player, with a 19-year career that saw him take part in every one of Somerville's 15 league championships.
Joining Doc with a century-mark milestone of his own was right fielder Sal Mendonca who collected his 300th Yawkey League hit back in May.
In the end, it was coach Bernie Driscoll who kept the team on track despite losing 6 key contributors over the course of the season to professional contracts or personal commitments. He looks to re-tool for the 2015 campaign in search of consecutive ring #6 with a target cemented firmly on his back by a league hungry to knock him off his perch.
Key Losses:
For the first time in nearly 2 decades, Somerville will take the field in 2015 without a fiery pregame speech from their Captain, #11. Players like Marc Desroches simply do not get replaced, and Alibrandi Version 2.0 will need to find their identity in the wake of a lineup sans "The Doctor".
Compounding this loss is the departure of infielder Logan Gillis, whose hustle and grit coming out of Bentley University were key factors in the squad's previous 2 championships.
Chris McKenzie and Dan Mahoney are also moving on after each winning a ring in their YBL rookie seasons, creating a void in the Alibrandi bullpen that will be very hard to fill by opening day.
Though perhaps the biggest loss for Somerville is the 20 lbs of fat former All-American Bobby Barrett shed in anticipation of a resurgent 2015 campaign.
Key Additions:
David Lightbody will take the ride up I-93 to join the Somerville Alibrandi Baseball Club after an All-Star season with the South Boston Saints. The Somerville table setters (Maguire/Salines/Addesa) are salivating at the thought of David's run producing capabilities in the middle of the lineup.
Somerville was excited for the return of prodigal son Lamarre Rey, who was slated to rejoin the Somerville staff in 2015. Yawkey League fans will remember Lamarre's dominant 2013 performance in which he did not give up an earned run in 52.2 innings. Alas, the excitement was short-lived as Lamarre re-signed with the Frontier Greys of the Frontier Professional Baseball League. We wish him luck as he continues to pursue his career in professional baseball along with former SS Stevie Rogers who will lace em' up for the Florence Freedom in 2015.
God-willing, the most important additions to the Alibrandi family in 2015 will be the half-dozen new faces en route thanks to Somerville's bevy of pregnant chicks. No wonder the Alibrandi record slumped in 2014, half the roster was "drained" by game time with all the baby-making going on. We pray for the healthy arrival of the Tanguy/Sullivan/Driscoll children incoming, and send blessings and congratulations to Marc and Michelle Desroches who gave birth to beautiful Morgan earlier this year.
Season Outlook:
The league gets better and better every year, but Somerville just keeps finding ways to stay in the hunt. With its pitching staff still firmly intact, Somerville should compete with the league's best as long as the lineup can find a way to put some runs on the board. The corner infield spots are still a question mark and offseason workouts have started alarmingly late this year, but as soon as the snow drifts on Trum Field melt, you better believe there will be a host of Red Jerseys working towards that 6th title in a row.
To quote the late, great Al Davis…"Just win baby"