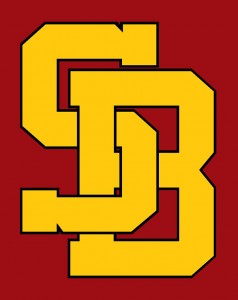 South Boston Saints
2014 Record: 19-11-1
Carl Yastrzemski Division 3rd place
The 2014 Saints team finished the year exactly like the previous years squad, dropping a winner goes on/loser goes home game 5 to the Revere Rockies at St. Peters field. The 2014 squad started out as one of the hottest teams in the league but slumped a little after top of the rotation starters Dylan Joyce and Rob Cahill moved to NYC during the season. The team finished up at 19-11-1, a two game improvement from the year before.
In 2015 the Saints will bring back much the same team as they had last year. Their biggest loss will be losing David Lightbody to free agency. Lights has decided to takes his talents north of the city to join the Somerville Allibrandis.
Reports from Saints spring training (Extra Innings, Watertown) say the team's leading hitter Kent Graham is in the proverbial "best shape of his life" and looking to have a monster year after injuries limited him to 21 games in 2014. The Babson triplets, Jeff Wojnar, Trevor Boyce and Bryan Evans, along with team rbi leader Jim McLaughlin will provide punch in the middle of the Saints order.
Pete McCauliffe returns at SS and will be joined in the middle infield by newcomer Dylan Katz-Wicks (Union 2014). Johnny Hayes returns in his quest to play all 9 positions in a game and then crush karaoke at the Banshee the same night.
Pitching – The team that threw 4 combined pitchers in a 5 game series remains a bit thin in the rotation. Rubber armed veterans Steve Hueston and Lucas Gheoghegan will head up the rotation, with Chris Dupay filling the "one start every 10 days" role. New faces Matt Bertuch (Swarthmore 2014) and Ben Oliva (Williams 2012) should provide depth. The Saints are also hoping their veteran pitchers Jon Miarecki and Jon Tenney can provide some quality innings on the hill as both deal with the same arm injury (old)