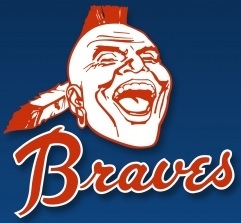 With the dawn of the 2015 season, the Brighton Braves are entering their 50th summer of baseball, all played at their beloved Rogers Park. They are also expecting to put a tough 2014 campaign behind them and return to the form that saw them reach the playoffs in 2012 and 2013.
Perhaps the most notable addition will be the installment of Ed Lee as manager. Lee has coached in Newton for many years, and is the father of former Bravos short stop, Alex Lee, who is currently playing pro ball in the Czech Republic after spending the winter playing pro ball in Australia.
There are two key losses from the roster this season. After seven seasons in the YBL, Evan Hudson will no longer be patrolling center field and hosing runners who dared test the Huddy Cannon. The Bravos will also be without the services of short stop Hector Coscione, who has signed with the Pittsfield Suns of the Futures Collegiate Baseball League.
Other than that, the veteran core of the Bravos is returning. Billy Uberti will once again lead the Bravos offense after tying for the league-lead in 2014 with a ridiculous .507 average. Outfielder Steve Robb, who has batted .375 over his first two seasons with the club, and infielder Ari Glantz, who posted a .338 average and .962 OPS in his rookie season last year, will both be cornerstones of the lineup. Super utility man Teddy Ballgame Tracy is entering his 19th season in the YBL, and Steve DeFusco, the man they call StevieD, who entertained thoughts of retirement for a week or two, is back for another round as well.
The Bravos pitching staff will once again be led by former big leaguer Mike Smith. Behind him are veteran righties Pete Lankarge, James Greeley, and Joe Schlesinger. The Bravos also received some strong work on the mound from youngsters Brendan Ryan and Richard Arms last season and hope that that trend continues. One of the biggest keys to a rebound by the Bravos will be a rebound by their pitching staff to the form they showed in 2013 when Smitty, Lank, and Greels combined for 17 wins.
With their strong veteran presence and a savvy Lee at the helm, the Bravos think their 50th summer in Brighton will be a winning one.