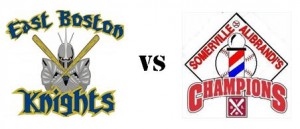 #1 East Boston Knights (31-6) vs. #2 Somerville Alibrandis (27-9-1)
Schedule (with potential starters for first games)
Game#1:  8/19 Allison (1-0, 0.00) vs. Rey (2-0, 2.15) /8pm @ EB Stadium
Game#2: 8/20 Mendez (1-1, 1.58) vs. Foundas (2-0, 2.15) /8pm @ EB Stadium
Game#3: 8/21 7:30 @ St. Peter's
Game#4: 8/24 7:30 @ St. Peter's
Season Recap
For the 3rd consecutive year, the Yawkey Baseball League Championship will be a showdown between the top 2 playoff seeds, but for the first time since 2011, the #1 seed isn't wearing Red…
After bowing out to the Big Red Machine in a 3-game sweep in last year's Semi-Final round (a combined score of 8-2), Eric Bellavia's East Boston Knights fortified an already potent, balanced squad with some pro-caliber arms in an effort to make another deep run in 2015.  Behind the league's top-ranked defense (.970 fielding percentage), EBK steamrolled through the YBL circuit to the tune of a league-best 25-5 record.
Leading the way was MVP candidate Marty Dunlap who took home the YBL batting title in 2015 with a .481 clip (and hitting at a modest .500 thus far in the postseason), while providing a rock solid foundation behind the plate for the league's most menacing staff.  A resurgent "Mikey O" Oliveira turned in a tremendous campaign batting .419 with 36 hits, while playing gold-glove caliber defense in the EBK infield.  Kenny Polanco provided some punch from the hot corner with a team-best 25 rbi, often driving in left-side companion Jose Paulino, whose 19 runs and 18 sb paced the club.
On the mound, the EBK starters pitched deep into ballgames, striking out a league-high 262 batters, bridging the gap to sidearm specialist Jon Shepard, who has been an elite closer in this league since 2010.  The trio of Allison/Carlson/Ockner went a combined 15-2 during the regular season, striking out well over a batter per inning.  They are bolstered in the playoffs by former pro Vic Mendez, who despite pitching in only 4 games and 9 innings during the regular season, offers a blazing fastball/slider combo, giving Eastie the depth needed to win a 7-game series.
Standing in the way of East Boston's first YBL title is perennial powerhouse Somerville Alibrandis, who entered 2015 as the 5-time reigning league champion.  Having dispatched Al Thomas in last year's championship finals, Somerville earned its 15th title in the 25 year history of the franchise, delivering its core of grizzled vets that elusive "thumb ring" they were so desperately in need of.
It would be a season of change for Somerville though, first with the loss of league legend Marc Desroches to retirement/fatherhood, then with the news that staff ace Chris McKenzie would not be back.  All concerns about the pitching rotation were wiped away however, upon the news that Lamarre Rey would be coming back from his tour in pro ball to anchor the Big Red staff. The return of the Big Kahuna Burger was pivotal in the Alibrandis' closing out the season with a 16-4-1 record.
Lineup inconsistency and some uncharacteristically subpar seasons from a handful of Alibrandi vets saw them scuffle out of the gate, staring at a #5 playoff seed as late as mid-July.  However, after adding some key pieces to the puzzle in rookies Charlie McConnell and Juan Parra, manager Bernie Driscoll would right the ship and get Somerville back into the postseason as the league's #2 seed.
The rookie McConnell would pace the Alibrandi offense with a .358 average and a team-best 17 steals.  Fellow newcomer Billy Karalis provided the punch with 3 HR's, 10 XBH's, and .514 slugging percentage.  Bobby Barrett, who led the Boston Park League in RBI's for much of the year despite playing only part-time, chipped in with a team-best 22 RBI's for the Alibrandis as well.
It was business as usual for the Alibrandi staff, with All-Stars Chris Foundas and Jon Morse combining for a 12-1 record, and Lamarre Rey jumping back into the mix with 55 K's in 30 IP.  Sean "Big Red" Sullivan returns to the playoffs sporting what is now the all-time winningest record in postseason history without a loss (11-0).  Brian Tanguy brings his 2.88 era and 5 saves into August as the team's most reliable bullpen arm to hopefully slam the door shut on championship #16.
Playoff Preview
After a game 1 scare in the first round that put EBK in a 0-1 hole at the hands of the South End Astros, the Knights rifled off 6 wins in a row to punch a ticket to their first YBL Championship Finals. They are peaking at the right time, and opposing hitters have been unable to catch their breath at the onslaught of right-handed power arms. 73 K's in 49 playoff innings against 2 of the better hitting squads in the league…that is not an accident.
At the same time, Somerville seems to have hit their stride with convincing series victories over the South Boston Saints and Stoneham Sabres.  If any team can counteract the bevy of talent that is the Knights staff, it may be the Alibrandis who enter the finals with the most runs scored (48) and most extra base hits (20 w/ 4 HR's) in the playoffs.
Somerville LF Billy Karalis enters the series with 16 RBI in 7 games, just 3 shy of the YBL Postseason record set by Marc Hordon in 2007 (19 RBI in 12 games).  After mediocre showings in the regular season, David Lightbody and Ted Dziuba have come alive in the postseason, combining to reach base 31 times in 7 games with 20 hits, 13 RBI and 16 runs scored.
Injuries might play a huge factor for both squads entering play Wednesday night.  Perennial silver sluggers Mike Maguire and Wilson Mercado both went down with leg injuries late in the semi-final round, and their ability to bounce back from injury will have a direct effect on the offensive outputs of both squads.
Any good manager will tell you that pitching wins championships and each of these teams can bring it. But with the offensive powers up and down each lineup, the eventual outcome will be determined by who can keep some stout lineups at bay and avoid the crooked numbers.  This has all the makings of a fantastic championship series…
* Who do you think will take home the McKay Trophy?!?
* Will Karalis keep making it rain ribbies?
* Will Mendez throw more innings in the series than he did all regular season?
* Will Somerville show up to Trum for game 1 out of habit?
* Will Stu be holding court with the AlibrandiNation ladies?
* Has EBK already used up their 2015 Gatorade bath?
Predictions welcomed in the comments section