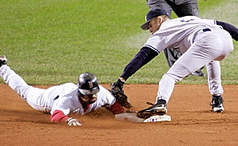 Just a reminder that no 7 game series finishes at 3-0…
Chris Costa spins a gem for Somerville Alibrandis to put them one win away from a 7th consecutive Yawkey League Championship.  In Game 3, Costa threw a complete game victory with 10 strikeouts against the powerful ATBC lineup.  Costa seemed to always come up with a huge strikeout when ATBC put the pressure on.
Alibrandis would continue its torrid hitting building a  3-0 lead in the first three frames before tacking on 7 runs in the bottom of the 4th powered by a line drive Grand Slam by first baseman Gordie Gronkowski.  Somerville would get a multi-hit night from Will Brennan and a clutch 2 RBI single from Teddy Dziuba to add the cushion they would need.
James Katsiroubas had the only multi-hit game for ATBC with the only RBI.  The 2015 Yawkey League MVP is fun to watch with a smoked double to left and an RBI single by 3rd baseman Bobby Barrett who didn't have  a chance to react.
Most importantly the YBL wishes ATBC Coach/3rd Baseman/Captain John Kostas the very best of luck as he and his wife soon welcome Baby Kostas into the world, "any time now…"  It's a rare occasion where baseball takes a backseat and we all stand up and applaud.
Game 4 is set for 2pm at St. Peters on Saturday.