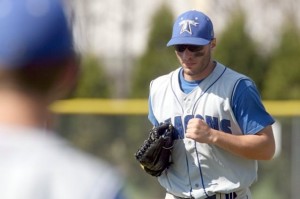 Since joining the McKay Club Beacons in 2008, few players in the Yawkey Baseball League have shown the ability to single-handedly generate offense as well as #27, Drew Tambling.  A true "dual-threat" by the very definition of the term, Drew's light tower power and blazing speed have been filling up YBL box scores for the last half-decade.
As a key contributor to the UMass-Boston Baseball Team's improbable run to the College World Series in 2010, Drew mashed 9 HR's, swiped 34 bags, scored 55 runs and drove in 43 RBI's out of the team's leadoff spot.  He's continued to produce in his post-college years, amassing 200+ career hits, 120+ stolen bases, 120+ RBI, 140+ runs and an impressive .383 career Yawkey League batting average.
A stalwart on the league's many all-star and select teams, Drew notably launched a long home run off of the US Military All-Stars in the Yawkey League's 2012 thumping of Doug Flutie's squad, and provided critical stolen bases in the YBL's 2014 EMass victory over the Boston Park League.
Get to know McKay Club slugger (And apparent Bachelorette hopeful…) Drew Tambling:
Nickname: Drew
Position(s) LF
Bats/Throws – L/L
Club(s) Played for in YBL: Mckay Club 2008-Present
 YBL All-Star: 2008-2014
Where did you grow up: Sterling, MA
Where do you live now: Dorchester, but by the time this is released I will be living in Singapore
Where did you go to college: Dean College & UMass Boston
When is your birthday: 9/18/84
What do you do for a living: Supply Chain Consultant at Gartner Inc.
Baseball Awards/Honors:
First Team All- LEC NCAA 2009,10
First Team All-Region NCAA 2009,10
4X YBL Silver Slugger
Been part of any championship teams prior to / outside of the YBL?
2010 LEC & Northeast Regional Champs at UMB
Favorite MLB position player of all time?
David Justice (the ATL years) I was a kid growing up in the burbs of ATL until I was about 8-9 yrs old. I loved David Justice. One day my mom took me to wait in line for 8 hours to get his autograph. First time I ever met a big leaguer.
Favorite MLB pitcher of all time?
Can't say I have a favorite. But I think of pitchers in terms of who I would least like to face. I think that honor would go to Randy Johnson. I'd **** myself.
What are the three best movies you've seen in the last year?
I'm more of the type to binge on TV Shows on Netflix. This past year I watched the entire Sopranos series for the first time. I watched the whole thing in like 3 weeks. I think I almost got fired for being so tired every day.
What concerts have you been to in the last year?
Queen, Foster the People, Marina and the Diamonds, Zedd.
Read any good books lately?
I like dystopian novels… The Maze Runner trilogy is sick.
Who is the most underrated player on your team?
Dan Brien has had a sneaky awesome year and maybe the prettiest swing on the McKay Club.
Who else on [your team] would make for an interesting interview?
Lionel Danielson, "right down the middle"
Who have you most looked up to in the YBL?
Guys like DesRoches, Tenney, Iafolla, and Del Rio just to name a few of MANY that show up year in and year out and compete at a high level and sustain long careers.
Who is the toughest pitcher to face in the YBL?
JT Ross has always made me look stupid
Who is the toughest hitter to face in the YBL?
It changes every year, but right now I'd say Freddi Carrera. He's one of the few dudes that never strikes out, can spray the ball anywhere, has the strength to push a flair into a hit and then steal two bags. Great kid, great player.
What was the most exciting moment you've had in the YBL?
Fenway.
How would you improve the YBL?
I'd like to see the EMASS Tourney turn into an event that grows into a weekend-long, double elimination, NCAA style tournament where all the amateur leagues in MA can make a bid for the title. There's some legit leagues in central and western MA.
What are your hobbies/passions outside of baseball?
Golf, Guitar, Songwriting, Netflix.
What was the greatest accomplishment in your life?
Landing my job and starting my career. Scariest and hardest thing I had to ever do was give up the dream and put on the working shoes. But I'm thankful everyday that I did.
Who is the most influential person(s) in your life?
My Father, Mark Tambling. So smart, so humble, so successful, so stress free. I seek his advice and approval for everything I do. I always want to make my father proud.
Tell me something about you that people wouldn't know.
Last summer, I was asked on the street by a casting recruiter to be a contestant on the Bachelorette. So this January, ABC flew me and 50 other dudes from all over the country to LA and put me up in the Beverly Hills hotel for the weekend. For 3 days, they put me through all sorts of crazy on-set interviews and testing. Then in the end, they cut me loose. It was probably for the best.
Do you have any pets?
I have a cocker spaniel named Lady, she's awesome.
What drives you to keep playing ball every summer?
Three things: Win a Title; Hang out with the Bros; and Pad the Stats.
Got any Predictions for the 2014 YBL Playoffs?
A's in 7… I think they got it this year!!