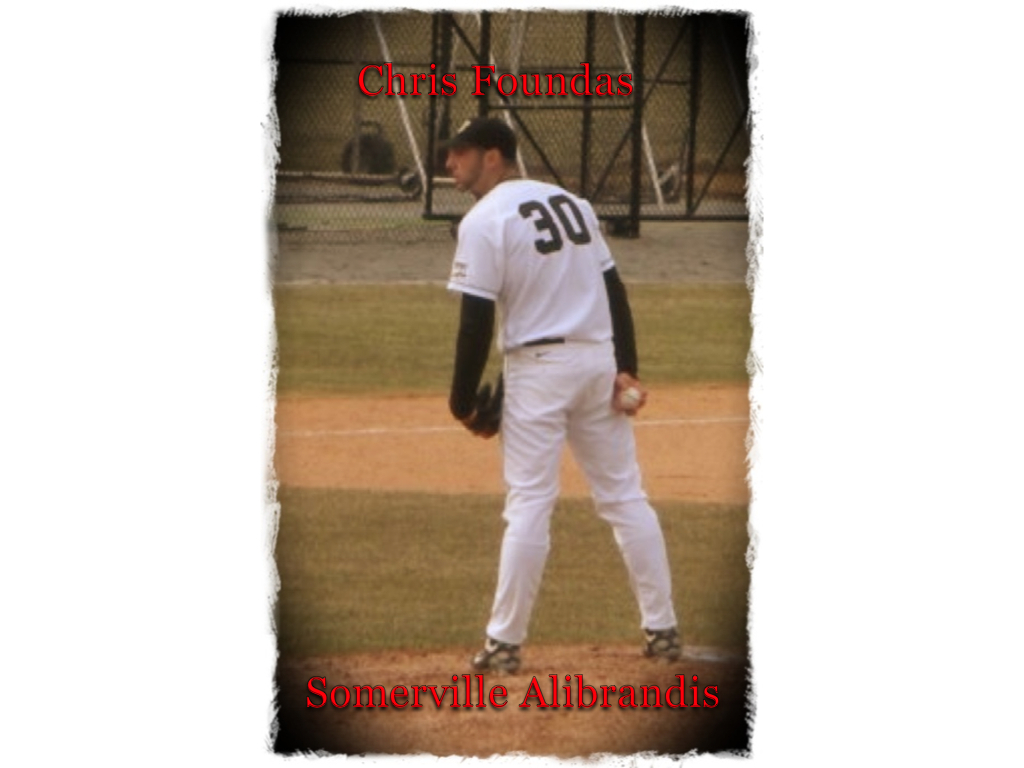 Over four seasons in the Yawkey Baseball League, Chris Foundas has posted a 24-7 mark in the regular season, and even more impressively, has gone 10-2 with a 1.10 ERA in playoff action. The Alibrandis have won the championship all four years that he has been with the team. In 2013, he tied for the league lead in wins (8), was 2nd in K/IP (1.33), and was 4th overall in strikeouts (61).  Chris throws one of the hardest, meanest fastballs in the YBL, but he is also one of the nicest guys you could ever hope to meet.
Nickname: Foundy
Position(s): Pitcher & 4th String Catcher just waiting for my opportunity
Bats/Throws: R/R
Club(s) Played for in YBL: Somerville Alibrandis (2010-Present)
Where did you grow up?
Needham, MA
Where do you live now?
Framingham, MA
Where do/did you go to college?
Bryant University
When is your birthday?
April 2nd, 1987
What baseball awards / honors have you won in your life?
Bryant's 10th Player Award 2009, NSPBA Second Team All-American 2011
How many YBL championships have you won?
4, Consecutive
What years have you been an All-Star in the YBL?
2011, 2012
Favorite MLB player of all time?
Nolan Ryan, cause he could probably tell people what was coming and they still couldn't hit it, hence the 7 No Hitters.
Who is the most underrated player on the Alibrandis?
Bobby Barrett, has come up in the clutch many of times and doesn't always get recognized
Who else on the Alibrandis would make for an interesting interview?
Teddy Dziuba. He always has something to say!
Who have you most looked up to in the YBL?
I may be biased, but this decision is easy, Marc DesRoches. The guy just loves the game of baseball and has respected it more than anyone I know.
Who is the toughest pitcher to face in the YBL?
Jon Klein, I don't know him personally, but the guy just knows how to deal, keeps batters off balance and just goes out and competes his butt off.
Who is the toughest hitter to face in the YBL?
Lefties, especially Tom Englehardt (hopefully returning this summer) & Teddy Dziuba, they are so disciplined and compete every single pitch, not giving a single at bat up, it's as if they are one step ahead of every pitcher trying to get them out.
What was the most exciting moment you've had in the YBL?
As a team achieving 30 wins in the regular season, and then going on to win our 4th straight championship.
Who is the most influential person(s) in your life?
My family as a whole. My Parents and two older brothers raised, guided, and supported me in everything I have done, and have always been there for me no matter what.
What drives you to keep playing ball every summer?
"Isn't it obvious? For the girls." In all seriousness, the moment you think you have this game figured out, it has no problem putting you right back into your place. This game is built around failure, and the player/team that overcomes these failures are the ones that are going to succeed, and there is no better feeling than accomplishing that ultimate goal: WIN. One last quote, "Its supposed to be hard; if it wasn't hard, everyone would do it. The hard is what makes it great!"