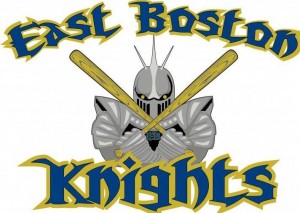 East Boston Knights
2014 Record: 21-10-1
Carl Yastrzemski Division 2nd place
2014 Season Review:
Coming into the 2014 YBL season the East Boston Knights felt this was their best team on the field and they did not disappoint. Although they fell short of their goal to win the YBL it was a season in which they had overcome lots of injuries and adversity. Season ending injuries to Brad Monroe, Kenny Luongo and Mikey Oliveria were thought of as devastating but this team somehow found a way to keep on and be a threat in the playoffs. It was a season in which they won their first playoff series in their short history and exercised the demons against the Stoneham Sabers in dramatic style. The season ended abruptly in a hard fought series vs the Somerville Alibrandis, getting swept by the eventual champs 3 games to none that saw historic games that one had to be there to appreciate. All in all a successful season for EBK, one to build off of and apply to 2015.
2015 Season Preview:
Once again the Knights believe that this is their most talented team in their 6 year history. Mostly all of the roster will return in 2015 to try and take care of unfinished business. The pitching staff remains intact with the exception of hard throwing righty John Tangherlini. Tango was scooped up by the Southern Illinois Miners in the Frontier League in the offseason. Jeff (Jeffy) Allison will return to the bump along with Jon Shepard, Everyday Max Ockner and Billy Riggieri. EBK veteran Branden Eaton will be returning for his 4th season along with a rejuvenated Sean Hannon the cannon. Field captain Jose Paulino will be returning to lead the troops to the Promised Land along with most of last year's roster still intact.
Key Losses:
The Knights suffered some losses as most good teams do. As mentioned John Tangherlini will be moving on to the Frontier League. Also moving on will be Victor LeBron. LeBron, last year's ROY and the best leadoff hitter in the game has also signed a contract to play in independent ball for the 2015 season. Victor shattered a YBL record last year with 47 steals and was top 5 in almost every offensive category. His speed at the top of the order will surely be missed as well as him patrolling CF and tracking down anything hit near or around him. Brad Tardugno a sure HOF'r has retired after a great YBL career that sees him as the all-time single season RBI record holder with 47 back in 2010 for the Malden Bulldogs. Also moving on is Omar Ortiz, an original East Boston Knight who had a tough year for EBK nursing a leg injury that limited him last season. Also moving on another original Knight Josh Valerio who played a key role for the Knights in 2015. Another huge loss for the Knights will be veteran Kenny Luongo. The heart and soul of EBK, Kenny has an elbow injury that will require surgery and he will miss the entire 2015 season. He will be back!!!!
Season Outlook:
The Knights have lofty goals for 2015 as they always do. This team is built for the playoffs with a pitching staff that has professional talent and lots of experience. Although the team has suffered some key losses they also have added to their roster. Key veterans Wilson Mercado, Jose Paulino, Kenny Polanco and Geoff Harris will all be returning. Catchers Marty Dunlap and Brett Remon also return to form a great 1-2 punch behind the dish. The Knights welcome back senior and captain of Curry College, Kyle Connors to the squad after missing last year with Tommy John surgery. Also returning super utility man, pitcher and 2014 All Star Justin Wojcik. Wojcik spent last season with the West Roxbury Nationals. Another former Nat joining the team will be Johan Villalona. Johan is a welcome addition who will deepen the already tough EBK line-up and play DH, 1B and catch. The Knights also have Mikey Oliveria returning from his ACL surgery returning to 2B for the home town team. Bench coach Richard Soohoo will also be returning for his 6th season. The Knights have added some depth to the roster and have a strong bench and bullpen. Another signing is former Houston Astro product Kilby Pena. Pena a hard throwing lefty is 2 and ½ years removed from Tommy John surgery and ready to return to the mound in hopes of helping EBK and hopefully returning to the professional baseball ranks. All in all the Knights are ready for the 2015 season to start after an offseason of hard work and dedication.