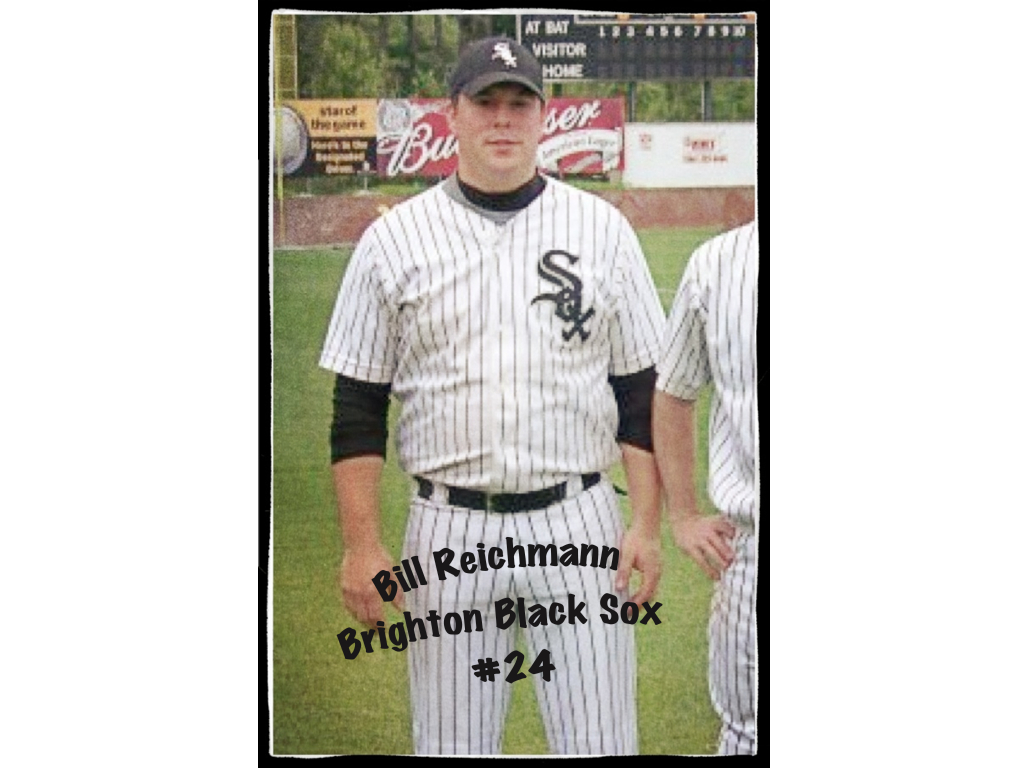 In eight YBL seasons, Bill Reichmann has amassed 225 hits, scored 147 runs, and stolen 56 bases. He is a lifetime .311 hitter and two-time recipient of a YBL Silver Slugger Award. In 2009, he tied for the league lead in hits with 44, and was fourth in batting average at .419. In a three-game sweep of the Savin Hill Hornets in 2011, he went 5-7 (.714) with 4 BB. He has also been known to make legendary comments on the YBL Facebook group. #CurseOfSledge
Position(s): LF but growing into a DH. Every once in a while I'll fake it as a pitcher.
Bats/Throws: R/R
Club(s) Played for in YBL?: Brighton Black Sox (2006-Present)
Where did you grow up?
Callicoon, NY on a dairy farm. If you need your cow milked I'm your go to guy.
Where do you live now?
Danvers, MA
Where do/did you go to college?
King's College (PA, which must be specified as some people think of London first for some reason). Class of 2005.
When is your birthday?
May 23
What baseball awards / honors have you won in your life?
YBL Silver Slugger (2008, 2009)
Been part of any championship teams prior to / outside of the YBL?
3-Time Section IX Champions… in football.
What years have you been an All-Star in the YBL?
I think I've played in three [All-Star Games]: one in Lynn, which was an intra-league game; one in Nashua vs. the Military All-Stars; and one at Fallon Field, which was an intra-league game. I think they were 2008, 2009, and 2011.
Favorite MLB player of all time?
When you have the honor and privilege of rooting for the Yankees your entire life, it is difficult to choose just one, so I'll give you one dead and one alive: Lou Gehrig and Mariano Rivera. Both were not only great players, but great men and role models. (p.s. – What are the chances that the first sentence gets me a fastball to the ribs this summer?)
Who is the most underrated player on the Brighton Black Sox?
I think that Matty Nicholson flies under the radar every year and has a great year. He never gets mentioned in the Facebook discussions (arguments), but he consistently puts up an ERA in the low 2s. He's one of the most competitive players on the team and we are lucky to have him.
Who else on the Black Sox would make for an interesting interview?
Mazz for sure. Don't talk to the Owens brothers though. No one likes talking to those two.
Who have you most looked up to in the YBL?
Definitely Griff. He does so much to keep the Brighton Black Sox up and running and without a complaint. The guy wasn't back-to-back Gentleman of the Year for nothing!
Who is the toughest pitcher to face in the YBL?
There are a lot of very good pitchers in the league. The toughest for me last year was definitely Jon Morse of Somerville. I remember we faced him twice and I could not really get a beat on what he was doing.
What was the most exciting moment you've had in the YBL?
Winning a playoff series against Savin Hill in 2011 definitely ranks up there. Also being able to contribute as much as I did during those three games makes it that more special. It was probably the best three-game stretch I have ever played.
Who is the most influential person(s) in your life?
Definitely my dad, who I unfortunately lost back in 2008. He was such a big part of my life growing up. He was always willing to throw the football, shoot some hoops, or hit fly balls and ground balls after a long day of work on the farm. He is the one who set an example of hard work, competitiveness but also in treating others with respect.
Tell me something about you that people wouldn't know.
I grew up in a very small town in upstate NY and before my senior year my school merged with two other schools. It was a transition period so I ended up wearing three different school colors that year. For football, we played as all three schools to increase the numbers (we still only had about 40 guys in grades 9-12 playing). For basketball, all three schools had more than enough guys for their own team so we played as three separate schools. The tough one was for baseball. My school did not have enough players to field a team, but the other two schools did. They ended up shipping us to one of those schools so that there were only two teams, but I had to wear a rival's uniform during my senior year.
What drives you to keep playing ball every summer?
I have always loved playing baseball. When I first joined the YBL, I felt like I had a lot to prove to myself because I did not get a lot of playing time in college. I wanted to prove that I could play at a higher level than just small town high school baseball. It is still what drives me to this day.
What was the greatest accomplishment in your life?
Definitely marrying the awesome lady in the picture below.  This is one of my two pictures of shame from my wedding. To all those getting married out there, be sure to check the bottom of your shoes before going out there!