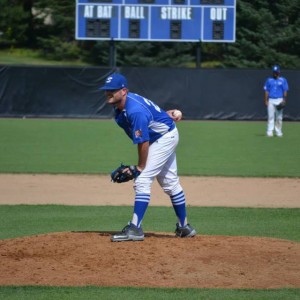 Sam "The Bull" Cummings is one of four original Stoneham Sabers still playing from the inaugural roster back in 2011. Cummings comes from Burlington, Mass where he once struck out 21 Woburn High School batters when he suited up for his hometown team.  Manager Angelo Colucci first noticed Cummings' brilliance when they faced off in the Lou Tompkins summer baseball league and brought Cummings on board in 2011.  Cummings went on to graduate from Bentley University where he played a few years of collegiate baseball.
Cummings is one of the most underrated pitchers in the Yawkey Baseball League. He has a career winning record of 16-12-2 on the mound.  Tossing 184 innings, striking out 169 YBL batters, with a phenomenal 1.19 earn run average that is currently good enough for 7th All-Time in the YBL since the 400hitter era.  His post season numbers are just as good. In the post-season Cummings is 4-2 with a 1.48 era, defeating some of the best team's the YBL has to offer in the Somerville Alibrandis and East Boston Knights.
Sam is one of the most dedicated players on the Sabers and is a "Bull-Like" competitor on the mound. He pitches whenever he is called upon and is a true team player.  Cummings will be pitching a shutout and will take himself out to get other players innings.  It is truly a pleasure to have a leader like Cummings on the roster and the Sabers hope to have him for years to come.
(Intro Courtesy of Angelo Colucci)
Nickname: The Bull
Position(s): P
Bats/Throws: R/R
Club(s) Played for in YBL: Stoneham Sabers
Where did you grow up? Burlington, MA
Where do you live now? Allston, MA
When is your birthday? October 23, 1990
Where did you go to college? Bentley University
What do you do for a living? IT Auditor for State Street Bank
If you played pro ball, where have you played, and what was the most interesting city you called home? Never got the call, unfortunately.
What baseball awards / honors have you won in your life? There were some accolades back in High School but that was many years ago and are pretty irrelevant now.
Do you coach/play anywhere outside the YBL? Where? Play in a few games after Yawkey season in the MNBL out of Woburn for the Orange Crush
Been part of any championship teams prior to / outside of the YBL? Waaayyyyy back in the day. We (Burlington) used to dominate Little League. Did a decent amount of damage in Regionals every year.
What years have you been an All-Star in the YBL? 1 – 2014 maybe?
Favorite MLB player(s) of all time? Pedro Martinez and the Big Unit
What are the three best movies you've seen in the last year? Tough to think about what I have seen recently. Would have to go with The Big Short, Captain America Civil War and Finding Dory.
What concerts have you been to in the last year? Did a little ZBB at Fenway. Saw Kenny at Gillette and saw Steve Aoki in Vegas
You're on your way to a game, what are you listening to in order to get hyped? The Stone Cold Steve Austin intro. Daniela will play it for me in the first inning if she is doing walks ups that day.
Read any good books lately? Would it come as a surprise to say that I am not much of a reader?
What are your 3 favorite shows right now? Walking Dead, Game of Thrones, Workaholics
 What is the best trip you've ever taken? Hands down the best 'trip' I have ever been was studying abroad in Barcelona for 6 months. Got to live in the best city in Spain while seeing another 12 cities across 6 or 7 different countries.
Who is the most underrated player on your team? Ryan Flanagan. Tracks fly balls with the best of them – and in the wise words of Kenny Powers, "He's got an arm like a #$@!ing cannon". There is a reason why he wears that C.
Who else on your team would make for an interesting interview? Dion – Kid is a weirdo
Who have you most looked up to in the YBL? Mike Smith – still able to be as effective as he is over an extremely long period of time
Who is the toughest pitcher to face in the YBL? Haven't picked up a bat since Vietnam –
Who is the toughest hitter to face in the YBL? Carrera or Katsirubas
What was the most exciting moment you've had in the YBL? There is always new excitement every year in the YBL but there is no better feeling than a little playoff baseball against the leagues' powerhouses.
What are your hobbies/passions outside of baseball? I am actually wicked boring during the other parts of the year so thank god for baseball!
What was the greatest baseball accomplishment in your life? Have had quite a few but will always remember when I struck out 21 batters in a 7 inning game back in High School. There were 24 total outs due to drop 3 drop 3 strikes.
Who is the most influential person(s) in your life? Know its cliché but the Parental Units had the biggest impact in my life and are the reason I am who I am.
Do you have any pets? Got a 25 Lb cockapoo named Bruschi. Little guy just turned 14.
How does your significant other handle your baseball habit? Just starting to understand the half of it – she's in deep sh*t
Tell me something about you that people wouldn't know. I get all my golf skills from my Eskimo bro for life – Jordan Spieth.
Do you remember who started your Sabers' team nickname "Stals"? Wow, that was a really long time ago. I want to say it was our first year in the league and it may have been Jake Zelnick or Mike Robinson. 50/50 chance on either one of them.
What Saber in franchise history would you want up at bat with the YBL championship on the line? Mike Robinson – Call the Army and bring him back!
What drives you to keep playing ball every summer? Trying to win that championship so I can ride off into the sunset like Jared Allen