PITCHER OF THE WEEK: Pat Shore – Revere Rockies – #6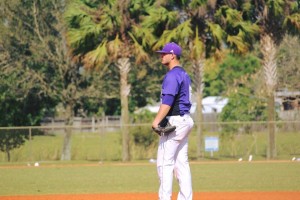 With a complete game shutout over the potent South End Astros on Thursday, our newest Pitcher of the Week is Pat Shore from the Rockies. Pat (seen above at tropical Revere HS) spread out 4 hits and a walk over his 7 innings while showing 7 Astros hitters to their seat via strikeout.
Fantasy Impact: With this shutout, Pat has improved to 2-1 on the season for Team 'Dirty Sandinis' (mgr: Nate Laliberte/Chris Santosuosso). A late-round pick, Pat is shaping up to be one of the steals in the draft as he now boasts a .420 era with 18 strikeouts over 16.2 innings. Sure, he also hit a batter……but that guy probably deserved it.
PLAYER OF THE WEEK: James Katsiroubas – Al Thomas Athletics – #16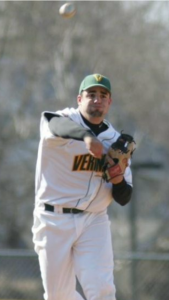 And taking home the next Player of the Week award is the reigning Yawkey League MVP, James Katsiroubas. After a slow start to the season (if hitting .320 over the first 9 games is considered slow), Katz went 6-for-15 last week including a triple and 2 homeruns, with 9 runs and 6 rbi.
Fantasy Impact: The top pick for Team 'Make Way for Doc-Lings' (mgr: Marc DesRoches), James is a prototypical clean-up hitter who has been setting the table since midway through 2015 for the currently undefeated A's. He doesn't lead the league in a single category, instead choosing to lurk just below the surface….which is all the more terrifying for the rest of the YBL. If Katz is in the midst of one of his trademark streaks, look for his .350/.559/.700 slash line to only get better.