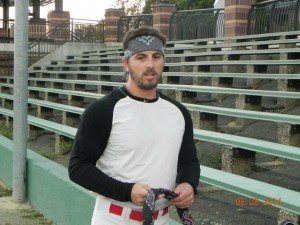 Brian Tanguy (yes, this is often confusing, but we can clear it up once and for all now…….it's pronounced BRY-uhn) joined the Alibrandis franchise of the Yawkey League after a well-traveled career throwing the pill all over the map. After graduating from BC High, the Weymouth native refused to allow an opposing line-up to get to know his repertoire too well. He made stops at St. Anselm's College, Clarendon (TX) Junior College and Tennessee Wesleyan College, Brian then settled into a 3 year stint at UMass-Lowell from 2005-2007.
Brian played professionally for the Boston Rox of the Can-Am League in 2007-2008 before digging into Cranberry League, Yawkey League and MABL rosters. Since 2012 he can be found closing the important games for the Red Army (28 career saves and counting, which is impressive considering that the Alibrandis rarely have more than 2-3 games a season that provide save opportunities), and has won 4 Yawkey League Championships in the process.
Tanguy is also an accomplished coach and a terrific instructor. He has been at the helm, as well as the assistant coach of several baseball programs both at the scholastic and club levels. He has coached at Gann Academy, RBI Baseball Academy and the South Shore Baseball Club. He is presently an assistant and pitching coach for the 2015 Mariners 13U Super Division Team.
Ladies and gentlemen, meet "Hose," Brian Tanguy (again, BRY-uhn).
(intro courtesy of Marc DesRoches)
Nickname: Tange, Hose
Position(s): Pitcher
Bats/Throws: R/R
Club(s) Played for in YBL: The Defending Champs (so modest)
Where did you grow up? South Shore
Where do you live now? Weymouth
When is your birthday? 3/28/84
Where did you go to college? The real question is, where didn't I go… (In this order) St. Anselm College, Clarendon Junior College in Texas, Tennessee Wesleyan College and UMass Lowell
What do you do for a living? General Manager for All-Pro Builders (Family Owned General Contracting Company)
If you played pro ball, where have you played, and what was the most interesting city you called home? I played for the Brockton Rox Professional Baseball Team in 2007… While playing for the Brockton Rox in 2007, my first road trip was against The Quebec Capitales, in Quebec City, Canada. It was my first time in Canada. The place we stayed in was in rough shape, to say the least…blood stains on the floor – looked like a battle scene…nice classy place! Even the McDonald's menu is bizarre (not because they are in French)…felt like I was in the twilight zone.
What baseball awards / honors have you won in your life? 
YBL Dick Radatz Fireman of the Year Award in 2012, 2013 and 2014
YBL Championship Series Co-MVP in 2013
Catholic Conference All Star in 2002, Patriot Ledger All Scholastic 2002
Do you coach/play anywhere outside the YBL? Where? I play for the Boston Bombers of the MSBL 28+ League in Boston. I am the pitching coach for the 15-18U Boston Prospects in Pembroke, MA.
Been part of any championship teams prior to / outside of the YBL?
2015 MSBL Over 30 Champions – Boston Bombers
Cranberry League (Hingham Phillies) 2003 – Stan Musial Tournament New England Champions
Member of the greatest High School Team EVER (in my opinion) in MA – 2001 State Championship BC High Eagles Baseball Team
What years have you been an All-Star in the YBL? 2012-2015
Favorite MLB player(s) of all time? Roger Clemens, Pedro Martinez, Derek Jeter, Nolan Ryan…nuff said
You're on your way to a game, what are you listening to in order to get hyped? Metallica, Guns and Roses, Eminem – The angriest music I can find.
What are your 3 favorite shows right now? In the past year, I have been blessed enough to be watching TV shows with my cute 8 month old son, Brian Jr (he gives my wife and I no time to watch our own shows)….so with that said, Sesame Street, Paw Patrol…you get my drift.
What is the best trip you've ever taken? To Antigua with my wife on our honeymoon…non-stop food, drinks and dessert available at all times, what's not to love?
Who is the most underrated player on your team? Bobby Barrett/Sean Sullivan – Bobby Barrett looks like some dude out of Duck Dynasty right now, but he's a silent assassin…when it counts, Bobby always gets the job done at the plate. He's an RBI Machine. I believe teams forget about Sean Sullivan at times…he's an enforcer on the mound in the playoffs…just take a look at "Big Red's" career Playoff Record and you will know what I'm talking about.
Who else on your team would make for an interesting interview? Mike Maguire being interviewed by Anthony DelPrete would be non-stop laughter.
Who have you most looked up to in the YBL? Marc DesRoches – Had the pleasure of watching this guy play for a few years and the old man, in my opinion, would still be one of the best players in the league right now…the legend of Doc is as true as can be…he plays the game with fire and he plays every game like it's his last. Pleasure playing with you, Doc!
Who is the toughest hitter to face in the YBL? Tough one to say…I see guys once through a lineup most games being a closer and don't really get to see guys strengths and weaknesses on a multi-inning basis…I also don't know many of the guys in this league either…but throwing to Katzy is definitely a challenge.
What was the most exciting moment you've had in the YBL? Turning, what my teammates will say, was the slowest bases loaded 1-6-3 double play they have ever seen, in the 2013 Championship game against the Revere Rockies to end the game and win the championship.
Also watching Billy Karalis and Dave Lightbody annihilate baseballs in the 2015 Championship Series…never seen anything like it!
What are your hobbies/passions outside of baseball? I golf, I fish, blah blah…Baseball is really my only real passion (outside of hanging out with my wife and my son of course)…baseball is really all I have ever been passionate about!
What was the greatest accomplishment in your life? Getting married to my beautiful wife, Liz, as well as my wife giving birth to our little guy, Brian Jr…those outweigh everything in my life!
Who is the most influential person(s) in your life? It's a combination of 3 people…my father (Brian Tanguy), my grandfather (Marty Barnes) and my baseball coach since I was 4 years old (Frank Niles). My father did whatever it took to get me to all of my games since I was 8 or 9 years old, even if it was 3 games in one day…he still to this day, does not miss a game. My grandfather was an umpire and coach for years and knew how to get the best out of me. Frank Niles taught me the game of baseball at a young age and how to play it the right way. They all individually gave me the foundation I needed to succeed in baseball and in life.
Do you have any pets? Yes, a black cat named Penny.
How does your significant other handle your baseball habit? Of course all wives or girlfriends think we are crazy for all of the baseball we play/coach…but at the end of the day, my wife, is the most supportive wife I could ever ask for…I play for two teams (Somerville Alibrandi's and Boston Bombers), along with coaching and doing pitching lessons…I am completely engulfed in baseball all year round and she knows how important it is to me…can't ask for anything better.
What drives you to keep playing ball every summer? Baseball and I were love at first sight…tough to imagine life without playing this game…but at age 32, my driving force is that I keep telling myself, until I can't get these young hitters out, I'm not going to stop playing. Every year it becomes more and more challenging, but I know I can still compete…and I pitch every game like it's my last. I also would like for my son to see me play before I'm finished.