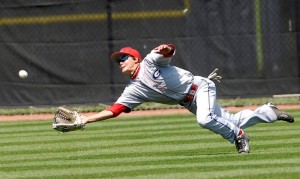 In three years as a member of the Rockies, Alex has become an integral member of the ball club via his ability to provide an offensive spark as well as shut down an opponent on the mound.  A .341 hitter over that time, his 46 RBIs and 22 Stolen Bases would stand to be even better except that he takes every 5th day off at the plate.  And for good reason; his 9 wins and 1.63 ERA in 90 innings over that same time are an equally important part of Revere's success. (courtesy of Nate Laliberte)
Alex has already started off the 2016 campaign with a win on the mound over the Saints in the season opener, promptly followed by a 2-HR game against the Dodgers the following day. Meet Alex, the Bartolo Colon of the Yawkey Baseball League…..
Nickname: Al, Albert
Position(s): RF, P
Bats/Throws: L/L
Club(s) Played for in YBL: Revere Rockies 2013-present
Where did you grow up? Lewiston, ME
Where do you live now? Waltham, MA
When is your birthday? July 10, 1991
Where did you go to college? Wentworth Institute of Technology, Class of 2013
What do you do for a living? BIM Manager at Commodore Builders
What baseball awards / honors have you won in your life? 2008 and 2009 All-KVAC 1st Team; 2011 American Legion State of Maine MVP; 2012 1st team All-CCC as an outfielder; 2012 2nd team All-CCC as a pitcher
Been part of any championship teams prior to / outside of the YBL? 2011 American Legion State of Maine Champions
What years have you been an All-Star in the YBL? 2013, 2014, 2015.
Favorite MLB player(s) of all time? Nomar Garciaparra
What are the three best movies you've seen in the last year? Star Wars: The Force Awakens; The Revenant; Jurassic World
What concerts have you been to in the last year? Don't like concerts
You're on your way to a game, what are you listening to in order to get hyped? EDM (Electronic Dance Music)
Read any good books lately? The International Building Code (this is sarcastic)
What are your 3 favorite shows right now? Game of Thrones, Breaking Bad, The Office
What is the best trip you've ever taken? Edinburgh, Scotland
Who is the most underrated player on your team? Kyle Rufo
Who else on your team would make for an interesting interview? Sean Glavin
Who have you most looked up to in the YBL? Chris Santosuosso and Adam Del Rio. Have been huge mentors for me in my prime baseball years.
Who is the toughest pitcher to face in the YBL? Jeff Allison
Who is the toughest hitter to face in the YBL? James Katsiroubas
What was the most exciting moment you've had in the YBL? 2015 Playoff series against A's
What are your hobbies/passions outside of baseball? Cooking, Golf, Madden (I accept any and all challenges) Architectural drawing/modeling (I am available for anyone looking for some design input!), Company softball team
What was the greatest accomplishment in your life? Legion State Championship is definitely up there; along with graduating college
Who is the most influential person(s) in your life? Mom and Dad
Do you have any pets? 1 black cat
How does your significant other handle your baseball habit? Very few complaints
Tell me something about you that people wouldn't know. Even though I do everything left-handed, I write with my right hand because my Mom made me when I was a kid.
What drives you to keep playing ball every summer? A love for the game, but recently more so for the baseball family I have become a part of.