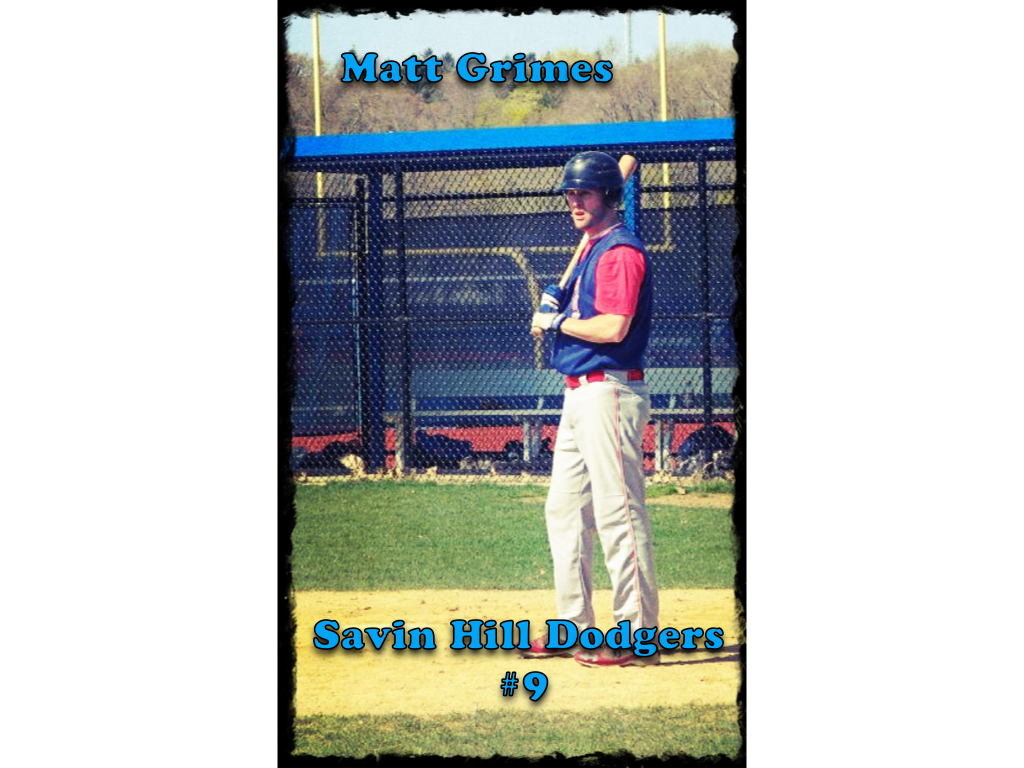 Matt Grimes
is a six-year veteran of the YBL, Co-Franchise Holder of the Savin Hill Dodgers, and probably the funniest guy in the league. In 2013, he joined the YBL's All-Star Committee and helped streamline the process of building the All-Star squads who won the EMass Tournament and defeated the US Military All-Stars. This offseason has been busy for Grimey, as he has been elected to the YBL Board of Directors as Member-at-Large (or as he prefers to be titled, "The YBL's Streamline Engineer"), and was also central to the merger of the Dodgers and Hornets.
Nickname:
Grimey
Position(s):
Wherever I'm needed.  I "Bugs Bunny-ed" the 2013 YBL season playing every position.
Club(s) Played for in YBL:
Brookline/Harbor Point/Beacon Hill/Boston…..now Savin Hill Dodgers, spanning from 2008 to present
Where did you grow up?
Newport, Rhode Island
Where do you live now?
Dorchester, MA
Where did you go to college?
Fairfield University '98 (Fairfield, CT)
When is your birthday?
September 15
What baseball awards / honors have you won in your life?
The "Seriously, you don't wear a cup playing 3rd base?" Award.
Been part of any championship teams prior to / outside of the YBL?
2-time (and currently defending) champion with the Newton Red Sox of the Boston MSBL.
What years have you been an All-Star in the YBL?
In my head, every year.
Favorite MLB player of all time?
Andre "Hawk" Dawson, Bill Buckner or Pedro Martinez…so hard to choose one.
What are the three best movies you've seen in the last year?
I did recently see "American Hustle," and "We're the Millers," but they were a combined five hours I'd like to have back. "Flight" and "Despicable Me 2" were really good though.
What concerts have you been to in the last year?
Foo Fighters (a little over a year ago) was the best show I'd ever seen.  Saw Mumford & Sons, Martin Sexton and Puscifer all last year.
Who is the most underrated player on the Dodgers?
Nick Tapper
.  He's just a goofier-looking Bob Saget. And everyone underrates Bob Saget.
Who else on the Dodgers would make for an interesting interview?
Right now, probably
Jay Shatto
, just because he would probably say "I'm so jacked up for 2014" a bunch of times.  But if I could have any recent Dodger interviewed, it would be
Matty Donaghue
, no doubt.
Who have you most looked up to in the YBL?
The entire Somerville Alibrandi organization.  Every team in the YBL should strive to be as consistent and competitive as they are.  And now that I have lulled them into a false sense of security, I'd kick each one of them in the nuts if I had the chance.
Who is the toughest pitcher to face in the YBL?
Well, clearly my .166 career YBL batting average shows that I fear no pitcher.  Except
Steve Defusco
.  He beans everyone.  I won't even take BP if he's throwing.
Who is the toughest hitter to face in the YBL?
There are so many excellent hitters in the league (
Marc DesRoches
,
Steve Lambert
,
Drew Tambling
,
Mike Robinson
to name a few), but going into my 7th YBL season, the one player who sticks out and always makes me think "crap, this guy again" is
Tony Iafolla
.  He almost killed me in my first season with a line drive.  Thankfully his power and my impeccable knack for self-preservation allowed him to hit me directly in the glove.  I think I even heard him say "Merry Christmas" after.
What was the most exciting moment you've had in the YBL?
Oh man……we haven't made the playoffs in my time, so any big win ranks up there.  Nick Tapper hitting a walk-off to beat Somerville at Rogers in 2009.  
Kyle "Moose" Breidenstine
no-hitting Revere in 2011.  But for me personally, either being a part of the nastiest pick-off play in YBL history in the final game of the 2013 season (courtesy of Jay Shatto), or hitting an 8th inning base-clearing triple to beat the Minutemen in 2011.
What was the greatest accomplishment in your life?
As of writing this, I am proposing to my girlfriend tomorrow.  So…..I uh…….I'll have to get back to you.  Because if that doesn't go well, my answer will probably be when I ate 5 full racks of baby back ribs at an Applebee's in New Hampshire.
Who is the most influential person(s) in your life?
My folks and sister are easily the most influential people in my life. My mother (Miss Rhode Island '69….just sayin) is the most persistent and giving person I have ever known, and she taught me to put others ahead of myself. My old man has always encouraged me in everything I do, and taught me the value of a bases-loaded, full-count curveball. And my sister amazes me on a regular basis. I've never known anyone to say "I'm going to be……" and just does it. She accomplishes anything she tries, and I have no idea what she'll do next.
Tell me something about you that people wouldn't know.
I don't like to sit on the beach. I grew up within walking distance of the beach, but I'll take a pool, a cocktail, a lounge chair and a book every day of the week.
What drives you to keep playing ball every summer?
Being a part of a great group of guys that have all become good friends, and the prospect of "This could be the year" in every offseason.  I'm a junkie.  Considering how much I love to play, I really should be better at baseball.
———-