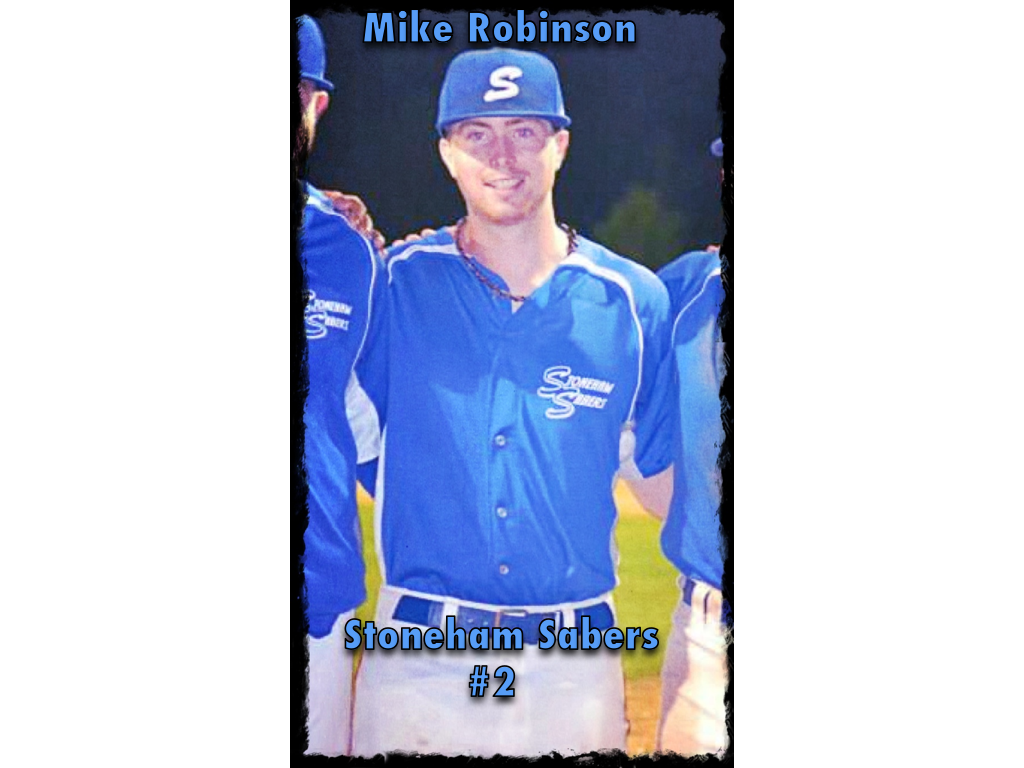 Through his three seasons in the YBL, Mike Robinson has been one of the league's undisputed superstars. He has an incredible .418 career batting average, with a 1.052 OPS. He has also stolen  53 bases while only being caught 3 times. Another fun stat: he has only struck out 30 times in 299 ABs. This cornerstone of the Sabers franchise is also well-rounded and articulate off the field.
Nickname: Robby
Position: Center field
Bats/Throws: S/R
Club(s) Played for in YBL?
Stoneham Sabers (2011-present)
Where did you grow up?
Stoneham, MA
Where do you live now?
Stoneham, MA
Where do/did you go to college?
Boston University '12, Boston University School of Law '15
When is your birthday?
April 12, 1990
What baseball awards / honors have you won in your life?
NECBA All-Star 2011/2012, NECBA Batting Champion 2011, 2012, NECBA Southeast Division MVP 2011/2012, YBL All Star 2012, 2013, YBL Silver Slugger Team 2013, YBL Gold Glove Team 2013, member of YBL All-Star Eastern Mass Championship team 2013
Been part of any championship teams prior to / outside of the YBL?
I've been on three championship baseball teams. In my senior year, the 2012 Terriers had an undefeated perfect season. My little league team went 21-0 when I was 12, and we also won again when I was 14.
What years have you been an All-Star in the YBL?
2011, 2012, 2013
Favorite MLB player of all time?
Mickey Mantle
What are the best 3 movies you've seen in the last year?
"Casino Royale," "Hunger Games: Catching Fire," "Mr. Deeds"
What's the best concert you've been to?
Taylor Swift's "Speak Now" tour
What's the best book you've read lately?
It's between Anna Karenina and Pride and Prejudice.
Who is the most underrated player on the Sabers?
Ryan Flanagan. Definitely well respected around the league but I don't think he gets the credit he deserves. He is the captain of our team because he is not only a great player, but also a great leader. He is a guy that we all look up to. He always puts the team first and keeps everybody in line. He also has an absolute cannon for an arm. I vividly remember standing next to him at the soccer net in left field at Rec Park and watching him hose a guy at the plate when he tried to tag up. Also, Travis Adams doesn't get enough recognition behind the plate. I've never seen one of our pitchers shake him off.
Who else on the Sabers would make for an interesting interview?
While Stefan Botarelli is the most articulate, cultured, and well-traveled Saber, I'm going to have to go with Chris Dion here. Dion is the most competitive and eccentric guy I've ever had the pleasure of playing with.
Who have you most looked up to in the YBL?
I look up to Flanagan and Jake Zelnick. Flanagan has really helped me learn the nuances and strategies of baseball. Zelnick is the guy I talk to about weights and dates. Outside of the Sabers, I'd have to say Somerville's Mike Maguire. We both went to Malden Catholic, play the same position, and generally leave the ballpark with dirty uniforms.
Who is the toughest pitcher to face in the YBL?
Mike Smith from the Brighton Braves has great stuff and an amazing command of the strike zone. I could also list the entire Somerville staff here, but in particular I hate facing Anthony Del Prete. Not sure why, but the slower it comes in, the harder it is for me to hit.
What was the most exciting moment you've had in the YBL?
It's tough to beat playing an All-Star game at Fenway Park, but being a member of the YBL squad that beat the Intercity League in the Eastern Mass Tournament was also very exciting.
What was the greatest accomplishment in your life?
It's between running a 5-minute mile and hitting an inside-the-park homer off former major league pitcher Mike Smith.
 Who is the most influential person(s) in your life?
My dad, since he has made me the man I am today. Besides him, I'd have to go with Plato and Epictetus.
Tell me something about you that people wouldn't know.
Despite my legal acumen, I am really bad at taking signs. In fact, my teammates will tell you I am probably the worst. All I know is that I have a green light at first and Papa (Coach Colucci) tells me to pretend to understand the signs when I'm at the plate. In case people already know I'm terrible with signs — I love reading classical literature, I played tennis in high school instead of baseball, and I'm blacklisted at Boston University's chapter of the Kappa Delta sorority.
What drives you to keep playing ball every summer?
Baseball gives me something to look forward to all year. I love spending time with my teammates, having weird superstitions, making pre-game sacrifices to the baseball gods at Rec Park, having a hit streak beard, and most of all — winning ball games. Baseball has also taught me a lot about life. I always dig in with a game plan and it is always the same one – find a way to reach first base. Sometimes the right move is to be aggressive and swing at the first pitch; other times you have to be patient up there. Playing baseball continuously reminds me of the importance of teamwork, having a positive attitude, and to always go after what you want with confidence and dedication. In reality, playing for the Sabers is the last hold I have on youth and I'm not ready to hang em up just yet.